R E V I E W B Y R I C H C L I N E
dir-scr Brad Bird
voices Patton Oswalt, Lou Romano, Brad Garrett, Janeane Garofalo, Ian Holm, Peter O'Toole, Brian Dennehy, Peter Sohn, John Ratzenberger, Will Arnett, Julius Callahan, James Remar
release US 29.Jun.07,
UK 12.Oct.07
07/US Disney 1h51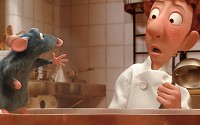 Soup's on! Remy and Linguini





Combining vivid characters with a fresh story, this is one of Pixar's best films yet. And after The Iron Giant and The Incredibles, it's yet another brilliant piece of work from Brad Bird.

Remy (voiced by Oswalt) is a rat whose fine sense of smell sets him apart from his less-discerning father and brother (Dennehy and Sohn). His hero is the celebrity chef Gusteau (Garrett), and a series of events lands him in the kitchen of Gusteau's Paris restaurant. He soon teams up with the hopeless Linguini (Romano), and working together they create inventive recipes that catch the attention of snooty food critic Anton Ego (O'Toole) and assistant cook Collette (Garofalo), but annoy head chef Skinner (Holm). And if anyone discovers Linguini's filthy little secret, the jig is up.

Forget the fact that this film is animated, it's one of the most sharply written comedies of the year. The film crackles with life and energy, vivid characters who actually grow and learn, and action sequences that are far more thrilling than most summer blockbusters. Bird has always been wonderful at catching details both in the script and on-screen, and this movie is a colourful collection of inventive and witty touches that provide the perfect balance of engaging characters and gripping narrative.

Yes, it's essentially a story of a boy and his rat. But there are all kinds of wrinkles in this pointed tale, expertly brought to life by the whizzy animation and lively vocal work. These characters are far more complex than we usually see in this kind of movie; while Skinner and Ego are the ostensible villains of the piece, they are both also given moments of breathtaking pathos, especially Ego, who gets a wonderful flashback followed by an intelligent discussion of what being a critic means.

This kind of thing might leave young viewers a little bored, so it's a good thing Bird continually dazzles the eyes with vibrant imagery and heart-stopping action. And kids won't miss the film's main point that we can't change nature, that change is nature, and that it's up to us to choose to move forward. But then, that's an important message for all of us.
| | | |
| --- | --- | --- |
| | some themes, suspense, innuendo | 9.Oct.07 |