R E V I E W B Y R I C H C L I N E
dir-scr Robin Swicord
with Emily Blunt, Maria Bello, Kathy Baker, Maggie Grace, Amy Brenneman, Hugh Dancy, Kevin Zegers, Marc Blucas, Jimmy Smits, Nancy Travis, Parisa Fitz-Henley, Lynn Redgrave
release US 21.Sep.07,
UK 16.Nov.07
07/US Sony 1h46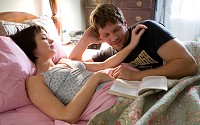 "One half of the world cannot understand the pleasures of the other" (from Emma): Blunt and Blucas






There's the germ of an interesting idea here, plus a terrific ensemble cast, but it's reduced down to a predictable story, simplistic script and only adequate direction.

Five life-weary women decide to form a group to discuss the books of Jane Austen. Prudie (Blunt) is a prim French teacher caught between her thoughtless husband (Blucas) and an over-attentive student (Zegers). Bernadette (Baker) has been married six times. Sylvia (Brenneman) has just split with her husband (Smits) of 20 years and brings along her extreme-sports-mad daughter Allegra (Grace). And Jocelyn (Bello), who's never been able to make a relationship work, invites a charming sci-fi fan (Dancy) to join the group to cheer up Sylvia. But he's more interested in Jocelyn.

The cliches start early, with a colourful montage of the foibles of our technology-filled lives followed by a "let's quit while we're ahead" break-up scene. Clearly, Austen is the antidote to modern life, so the film goes on with chapter headings featuring each book title, the group discussion and of course how this particular novel applies to the situation at hand. Fans of girly movies will probably find this absolutely charming, but everyone else will gag on the corny dialog and overpowering cuteness.

Despite the fact that the film doesn't have a single sharp edge, the cast actually manage to create memorable characters. Blunt has some very funny scenes, and her slow-dawning forbidden romance with Zegers is actually quite sweet, while Bello and Dancy have an intriguing chemistry between them. Baker is fine as the woman Olympia Dukakis usually plays. Blucas and Smits have the most thankless roles as the idiot men of the piece. And Redgrave has a truly strange cameo as Blunt's wacky mum.

With all these characters, Swicord makes the surprising mistake to keep most of the plot's action in the dialog; we rarely see them do anything but talk about what they've done or what they're planning to do. The dialog's decently written, but makes for a surprisingly dull movie. And besides being a wasted opportunity to show that Austen's novels aren't remotely girly, the film becomes even more predictable than any of them.
| | | |
| --- | --- | --- |
| | themes, some language, drugs | 9.Aug.07 |