R E V I E W B Y R I C H C L I N E
dir Arie Posin
scr Zac Stanford
with Jamie Bell, Camilla Belle, Justin Chatwin, Lou Taylor Pucci, Allison Janney, William Fichtner, Glenn Close, Carrie-Anne Moss, Ralph Fiennes, Rita Wilson, John Heard, Thomas Curtis, Rory Culkin, Jason Isaacs, Caroline Goodall, Lauren Holly
release US 5.Aug.05, UK 8.Jun.07
05/US 1h48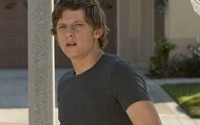 Self-medicated: Bell (above), Belle and Chatwin (below)





Even though it feels derivative, this blackly comical suburban drama is loaded with terrific details. And it features yet another excellent performance from Jamie Bell.

Dean (Bell) is a loner whose only friend has just committed suicide. He's not particularly broken up by it, but his pop-psychologist dad (Fichtner) still prescribes some tablets. And it's soon clear that virtually everyone in this neighbourhood is self-medicating, from the dead boy's smiley mother (Close) to Dean's vitamin-selling mom (Janney). Then two school bullies (Chatwin and Pucci) push Dean to get them some drugs, threatening to kidnap his brother Charlie (Culkin). Except they grab the wrong Charlie (Curtis), a boy who's mother (Wilson) is about to marry the mayor (Fiennes).

The set-up superbly highlights the vacuous lifestyle in a bedroom community where everyone is so busy with trivialities that they fail to notice anything that's actually going on around them. The plot pivots on several points, including the collision of the wedding and funeral, the danger of the kidnapping, and the tentative attraction between Dean and the thugs' friend Crystal (Belle). But none of these plot-strands develops into anything terribly gripping. Even Dean's internal journey, which is the film's focal point, isn't hugely involving.

Director Posin is clearly going for a surreal Donnie Darko vibe, blending in the headless videogame antihero of the title: "I'm not dead," he says, "but who could call this a life?" There are also heavy overtones of American Beauty, with sharp colours, blue skies and quirky, oblivious adults in search of their own epiphanies. Everyone in this story is in denial, and their drug-taking eventually tips the film over into magical realism, with violence played as slapstick.

But it never comes together, and in the end we're left wondering what the point is. The acting is very strong, especially from Bell, while Close, Janney and Wilson stand out in the adult cast, even if their characters never amount to much. In fact, the whole film feels like a great idea in search of a destination. But at least the solid performances give it a rawness that we can identify with.
| | | |
| --- | --- | --- |
| | themes, language, drugs, violence | 29.May.07 |