R E V I E W B Y R I C H C L I N E
dir Sidney Lumet
scr Kelly Masterson
with Philip Seymour Hoffman, Ethan Hawke, Albert Finney, Marisa Tomei, Rosemary Harris, Brian O'Byrne, Aleksa Palladino, Michael Shannon, Amy Ryan, Blaine Horton, Arija Bareikis, Leonardo Cimino
release US 26.Oct.07,
UK 11.Jan.08
07/US Capitol 2h03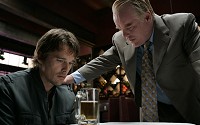 A fine mess: Hawke and Hoffman




At age 83, Lumet proves he's at the top of his game with this expertly directed melodramatic thriller, relentlessly teasing us with a twisty story and provocative characters.

The plot circles around a crime, when Hank (Hawk) gives in to pressure from big brother Andy (Hoffman) to rob their parents' (Finney and Harris) jewellery shop. This "victimless crime" is sparked by desperation--Hank owes money to his callous ex-wife (Ryan) and Andy has "borrowed" company funds for his drug habit. There's also the little problem of Hank having an affair with Andy's wife (Tomei). And then robbery spins hideously out of control. As the Irish toast goes: May you be in heaven half an hour before the devil knows you're dead.

First-time screenwriter Masterson's remarkable script circles playfully around the central event, revisiting scenes from different perspectives and extending them backwards and forwards. This structure is both riveting and exhilarating, fleshing out the story and deepening the characters with every scene, tightening the screws until the tension is almost unbearable. And yet we are completely gripped, and can't wait for the next morsel of information.

Lumet deftly orchestrates every element of the film with a sure hand. And this is one of those casts so perfect that it's impossible to imagine anyone else in the roles. As the story steps up, Hoffman skilfully enriches and intensifies Andy in a way that's messy and utterly astonishing. Hawke's less-showy Hank is just as magnetic as a pathetic man doing his best, and then his worst. And as the gaps fill in, Finney becomes a true force of nature.

This is a story about people who go far beyond the point where you can just say sorry. While the unfolding events are hugely momentous and none of these icy characters are terribly sympathetic, we can readily identify with all of it, which is a testament to the first-rate quality of the writing, directing and acting. This is an astute, telling story about moral relativism and people trying to cope with their vices on their own. And as everything unravels for each character, this becomes a strong, hard, mesmerising film that's impossible to get out of your head.
| | | |
| --- | --- | --- |
| | themes, language, violence, drugs, sexuality | 16.Nov.07 |