R E V I E W B Y R I C H C L I N E
dir Jonathan Levine
scr Jacob Forman
with Amber Heard, Anson Mount, Michael Welch, Aaron Himelstein, Edwin Hodge, Whitney Able, Luke Grimes, Melissa Price, Adam Powell, Peyton Hayslip, Brooke Bloom, Robert Earl Keen
release UK 15.Feb.08, US 4.Oct.13
06/US Weinstein 1h28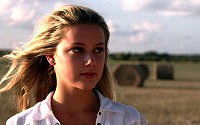 She walks in beauty. Heard (above); Grimes, Himelstein and Hodge (below)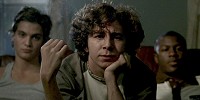 TORONTO FILM FEST
SXSW FILM FEST

With a fairly original angle on the genre, this is more of a dramatic freak-out than your standard teen slasher horror. Although the effect is exactly the same.

Mandy Lane (Heard) is such an object of lust at her Texas high school that one boy (Powell) dies trying to impress her. And her popularity has strained her friendship with nerdy buddy Emmet (Welch). For the end-of-term party, she heads to her friend Red's (Himelstein) remote ranch. He and the boys--sensitive Bird (Hodge) and goofy Jake (Grimes)--find Mandy so alluring that they almost ignore the other girls--airhead Chloe (Able) and tempestuous Marlin (Price). Who set their eyes on the hunky ranch hand (Mount). But there's someone else lurking in the shadows.

Unusually for this kind of film, the characters are all intriguingly shaded, and the killer in their midst actually makes sense to the plot, as do the twists and turns that follow. Yes, it gets increasingly, unnecessarily gruesome, but realism can only go so far in a high school thriller. At least these kids behave like normal human beings; they don't do stupid things at every turn, and are genuinely grappling with teenage issues.

The fresh cast is extremely good at capturing these moods on screen, and their interaction bristles with natural chemistry and jagged attitude, which keeps the film engaging and entertaining. So when the killing starts, it actually turns a bit boring. Just when we started hoping for a payoff to all of the sexual tension in the air, the film shifts to grisly violence instead.

Levine directs with a sure hand, shooting in dark textures and insinuating camera angles that skilfully stir up the suspense. Meanwhile, Forman's script catches the mixture of innocence and cruelty in adolescent interaction. So it seems a bit strange that they rush through the set-up, not giving us time to emotionally engage to the point where we would actually care when things turn seriously nasty. At least it's stylish and very cool, and the cover versions of Sister Golden Hair on the soundtrack are terrific.
| | | |
| --- | --- | --- |
| | themes, language, violence | 15.May.07 |