R E V I E W B Y R I C H C L I N E
dir Julie Taymor
scr Dick Clement, Ian La Frenais
with Jim Sturgess, Evan Rachel Wood, Joe Anderson, Dana Fuchs, Martin Luther, TV Carpio, Bono, James Urbaniak, Robert Clohessy, Eddie Izzard, Joe Cocker, Salma Hayek
release US 14.Sep.07,
UK 28.Sep.07
07/US Revolution 2h07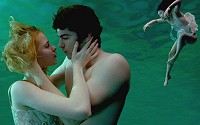 Lucy in the sky: Wood, Sturgess and Carpio



Telling the story of the 1960s through Beatles songs, this ambitious musical balances its visual outrageousness with a moving story. It's a little exhausting, but also wonderful.

Jude (Sturgess) has grown up fatherless in Liverpool. Restless, he joins a ship's crew and heads for America, where he meets the lively Princeton student Max (Anderson) and his sister Lucy (Wood). They all end up sharing a hippie flat in Manhattan with the feisty singer Sadie (Fuchs), guitar genius JoJo (Luther) and ex-cheerleader Prudence (Carpio), tripping out in Dr Robert's (Bono) magic bus before the grim realities of civil rights and Vietnam bring a sense of doom to their groovy Bohemian lifestyle. Can Jude and Lucy's love survive?

Like Moulin Rouge, Taymor's film carries the exhilarating sense that anything might be possible on screen, from the varied musical textures to an eclectic visual style that veers from wacky slapstick to full-on passion and back again. At its core, this is a sensitive love story, but it's loaded with energetic wit, colourful production numbers and ingenious imagery. Audiences willing to go along with it are rewarded with a rich, thoroughly enjoyable ride; those who resist will no doubt hate it.

The story cleverly begins in Liverpool's cavern clubs before transferring to New York's druggie-arty subculture and finally the political action of the late 1960s, in other words, the exact background for the Beatles career. The song arrangements are often inspired, taking on styles we don't expect and usually fitting in imaginatively to the narrative. The one exception is the astounding Being for the Benefit of Mr Kite, performed by Eddie Izzard, which quite literally stops the show.

There are gorgeous numbers along the way, most notably Carpio's lovely rendition of I Want to Hold Your Hand and Anderson's unnerving military induction spin on I Want You (She's So Heavy). In other scenes, Let It Be becomes a powerfully moving cry for peace, while Strawberry Fields takes on a very dark subtext. Meanwhile, the excellent cast carries us even when the film begins to feel pretentious and somewhat exhausting. Then in the climactic protest sequences, the film finds a surprising resonance that could actually stir us to action.
| | | |
| --- | --- | --- |
| | themes, language, violence, drugs | 6.Aug.07 |