R E V I E W B Y R I C H C L I N E
dir Ken Loach
scr Paul Laverty
with Cillian Murphy, Pádraic Delaney, Liam Cunningham, Orla Fitzgerald, Laurence Barry, Damian Kearney, Roger Allam, John Crean, Frank Rourke, Myles Horgan, Mary Riordan, Mary Murphy
release UK 23.Jun.06,
US 16.Mar.07
05/Ireland Pathé 2h07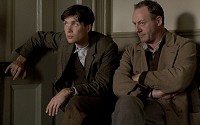 Freedom fighters: Murphy and Cunningham

Twas hard for mournful words to frame
To break the ties that bound us,
Ah but harder still to bear the shame
Of foreign chains around us.
And so I said: the mountain glen
I'll seek at morning early
And join the brave united men
While soft winds shake the barley.
- Robert Dwyer Joyce

Palme d'Or winner:


Loach and Laverty once again bring their considerable skills to bear on a thorny political situation (see also Land and Freedom or Carla's Song), this time the English-Irish conflict. The result is powerfully authentic, gripping and emotionally shattering.

Damien (Cillian Murphy) is a young doctor in small-town 1920 Ireland who's getting more and more involved with his brother Teddy (Delaney) in resisting the indignities and violence inflicted by the British military. As their movement gains momentum, the British retaliate in vicious ways, eventually blackmailing the entire populace into voting in favour of a treaty (basically: vote yes or we'll launch an "immediate, terrible war"). And as the opposing Irish Republican Army grows, things get increasingly ugly.

Murphy adeptly carries us along on Dan's shocking journey--maintaining his idealistic belief that justice will prevail, even in the face of unspeakable atrocities. "We have to drive them out" is the rallying call, and after 700 years of outside rule, with increasing humiliation and horror, we can identify with their quest for self-rule. Loach and Laverty don't really establish the context; they just throw us right into the middle of it and tell the story from one sensitive man's perspective.

This is rough, edgy, honest filmmaking that doesn't shy away from the violent realities or the philosophical discussions. We feel the anguish and regret, the impossible decisions, desperate hope "that this is worth it". Although the Brits are basically just evil thugs, the Irish characters grapple with social justice in powerfully personal and complex ways. And Loach films it with a raw attention to detail that allows us to focus on the characters and the issues they're grappling with.

There's rather a lot of talking in the film, especially the long group meetings in which the rebels thrash out their ideas. But there are so many important themes here, that the film hits gold every few minutes: "It's not what you're against; it's what you're for". And by investing so strongly in the people, Loach earns the painful irony of his abrupt conclusion, leaving us haunted by the realities of how human beings treat each other. And why.
| | | |
| --- | --- | --- |
| | themes, language, violence | 13.Apr.06 |


D Coenen, Netherlands:

"From the first minutes this film sets the tone for the rest of the movie. A lot of violence, shouting, shooting and beating are following each other up. The Film shows that both the Irish Side and the English side commit cruelties and loose sight of what they are initially fighting for. Too bad about the end, because I quessed it after half an hour." (29.Nov.06)