R E V I E W B Y R I C H C L I N E
dir-scr Daniel MacIvor
with Sandra Oh, Callum Keith Rennie, James Allodi, Paul Gross, Rebecca Jenkins, Ellen Page, Caleb Langille, Marcella Grimaux, Susannah Hoffman, Maury Chaykin, Kathryn MacLellan, Daniel MacIvor
release Can Aug.04 tiff;
UK Mar.06 llgff
04/Canada 1h39


Small-town news: Allodi (above); Gross and Jenkins (below)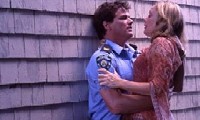 TORONTO FILM FEST
LONDON L&G FEST

This Canadian multi-strand comedy-drama has a fine ensemble cast and a low-key approach that's both charming and a little dull. But quirky touches and warm emotion keep us hooked.

Control-freak businesswoman Carol (Oh) is working to promote small-town Wilby Island, but everyone seems to be utterly incompetent. They can't even get the "Wonderful Wilby" banner right! She's completely unaware that her cop husband (Gross) is in lust with a single mum (Jenkins), whose teen daughter (Page) is being pressured by her boyfriend (Langille) to go all the way. Meanwhile, after his family deserts him, Dan (Allodi) wanders around in a suicidal funk, distracted from killing himself by a friendly builder (Rennie).

There's much more going on (including a community scandal that doesn't fully reveal itself until later), and several more characters intertwined in the various storylines. It's not terribly easy to keep everyone clear, but writer-director-costar McIvor cleverly contains the blackly comical narrative, while giving the film resonant undercurrents.

Everyone here is afraid to be themselves, because the community is so small. Some are horribly judgmental, others are more open to what's happening around them. Almost everyone has a misplaced obsession with sex--wanting it, afraid of it, jealous that others seem to be getting it. And while this is a bit obvious, it's also strikingly true to life. Beneath the sweetly homespun lifestyle, all are frustrated that they're not where they want to be. It's fairly clear that everything will work out in the end, but there are some brilliantly written and played confrontations along the way, which are surprisingly sharp or awkward, sad or creepy.

Despite the slow, meandering pace, the cast finds warmth and humour in each character. Standouts are the manic overachiever Oh, the distracted-but-aware Jenkins and the sharply defiant Page. There's also some terrific chemistry here and there, most notably a tender reluctance between Allodi and Rennie and a frighteningly misguided rush to intimacy for Page and Langille. In the end, the film feels a little simplistic, but the strong cast and McIvor's dark directorial touches bring out some strong insights that linger after the credits roll.
| | | |
| --- | --- | --- |
| | adult themes, language | 14.Feb.06 |