R E V I E W B Y R I C H C L I N E
dir Tom Vaughan
scr David Nicholls
with James McAvoy, Alice Eve, Rebecca Hall, Dominic Cooper, Catherine Tate, Charles Dance, Lindsay Duncan, Mark Gatiss, Benedict Cumberbatch, Elaine Tan, James Corden, Simon Woods
release UK 10.Nov.06,
US 23.Feb.07
06/UK Picturehouse 1h36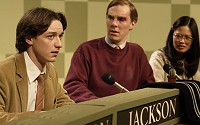 Starter question for 10 points: McAvoy, Cumberbatch and Tan




Charming and entertaining, this coming-of-age comedy has a strong story and engaging characters, even if it never really says anything terribly deep or meaningful.

Brian (McAvoy) is a brainy kid in 1985 Essex who leaves his childhood buddies (Cooper and Corden) to attend Bristol University. Before his dad died, he instilled in Brian a love of general knowledge quizzes, so when Brian gets the chance to join Bristol's University Challenge team, he leaps at it. Especially when it means he gets to work with the sexy blonde Alice (Eve). Meanwhile, he also enjoys a bit of flirtation with goth activist Rebecca (Hall). But the path to love--or TV fame--doesn't run smoothly.

McAvoy shines in this role, carefully getting into the skin of an inexperienced nerd emerging for the first time from his naive childhood. He's so charming and sympathetic that even when he does stupid things we can easily forgive him, and McAvoy plays the various tentative romantic scenes especially nicely. And he's surrounded by a strong cast of vivid characters; Cooper gets the tough-guy bravado just right, while Eve and Hall are sexy and sharp, in very different ways. As Brian's doting mum, on the other hand, Tate struggles to escape her comedy-sketch acting style.

The film is packed with lively, authentic interaction that doesn't run remotely smoothly. Edgy relationships, surprising discoveries and comical encounters add to Brian's journey. And the story touches on all sorts of strong issues, both in the politics of the period and in the moral dilemmas Brian must face. So it seems rather strange that the script skims over it all--there's no attempt to deepen either the themes or the characters.

It remains blissfully silly or emotionally raw, but without giving us anything to think about. Which is strange considering that it's clearly based on writer-novelist Nicholls' own experiences. In the end, the best thing about the film, besides McAvoy's winning performance, is a fabulous 1980s song score featuring everything from Wham to the Smiths, with lots of the Cure along the way. Enjoyable but oddly slight.
| | | |
| --- | --- | --- |
| | themes, language, innuendo, violence | 26.Sep.06 |