R E V I E W B Y R I C H C L I N E
dir Phil Morrison
scr Angus MacLachlan
with Embeth Davidtz, Alessandro Nivola, Amy Adams, Benjamin McKenzie, Celia Weston, Scott Wilson, Frank Hoyt Taylor, Joanne Pankow, Keith Harris, Laura Lashley, Bobby Tisdale, Tarra Jolly
release US 3.Aug.05, UK 14.Apr.06
05/US 1h47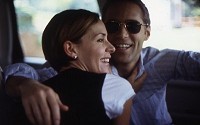 We're family: Davidtz and Nivola (above); Weston and Adams




Best Performance: Amy Adams SUNDANCE

This intriguing and insightful look at both rural America and more universal concepts of family and connection is almost undone by its wilful quirkiness. But it's so engaging that it wins us over.

Madeleine (Davidtz) is a high-powered Chicago art gallery owner who combines business with family on a trip to North Carolina, visiting an offbeat local artist (Taylor) and then dropping in to meet the family of her new husband George (Nivola): involved mother (Weston), quietly industrious dad (Wilson), bitter brother (McKenzie) and chatty, heavily pregnant sister-in-law (Adams). Madeleine fines her new relatives almost as baffling as they find her, especially as deep-seated family and community issues begin to show themselves.

The script is a beautiful, sensitive exploration of the strings that hold people together and the relationships that make us who we are. It never pokes fun at anyone; the bucolic earnestness is real, even if it feels utterly alien to the urban Madeleine. Everything is here, from religion and denial to repression and machismo, all deep-seated and woven into the fabric of life, rather than mere movie issues. And Morrison directs it with a bracing naturalism that impeccably catches the local colour.

All of the performances are intricately balanced, letting truth seep out of the characters' pores. Davidtz and Nivola are a remarkable on-screen couple, completely realistic, sexy, intriguingly matched and subtly exploring situations to understand each other better. Wilson and McKenzie both speak mostly in their silences. Weston delivers yet another remarkably powerful, restrained, heart-felt performance. And Adams creates a staggeringly unforgettable character, a chirpy optimist who takes a genuine interest in everyone and calls her unborn child Junebug even before she knows whether it's a boy or girl.

The most intriguing thing about this film, compared with similar movies about strained families and visiting outsiders, is its overwhelming hopefulness. Through several incredibly powerful scenes, the filmmakers allow us to laugh (and cry) at the outrageousness of it all. Instead of merely highlighting the problems, this story is actually celebrating them as the building blocks of humanity, recognising that our secrets and our minor transgressions are actually good things.
| | | |
| --- | --- | --- |
| | themes, language, sexuality | 10.Jan.06 |