R E V I E W B Y R I C H C L I N E
dir Wim Wenders
scr Sam Shepard
with Sam Shepard, Jessica Lange, Tim Roth, Gabriel Mann, Sarah Polley, Fairuza Balk, Eva Marie Saint, Marley Shelton, Kurt Fuller, Tim Matheson, Julia Sweeney, George Kennedy
release US 17.Mar.06,
UK 28.Apr.06
05/US Sony 1h51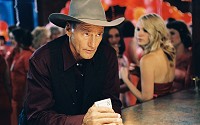 On the road again: Shepard



CANNES FILM FEST
KARLOVY VARY FEST

Here's another fascinatingly offbeat movie from Wenders--flashes of genius, stretches of muddled rambling and a powerfully moody examination of personal experience. There are heavy echoes of Paris, Texas (also written by Shepard), although this isn't nearly as focussed.

Howard (Shepard) is a worn-out actor who rides off the set of his current Western, and there's a nervous breakdown on the horizon. He heads to Nevada to visit his mother (Saint) for the first time in decades. She tells him a woman had his child after he made a movie in Montana some 20 years ago. So he heads north and encounters his former flame Doreen (Lange) and their tortured-artist son (Mann). Meanwhile, a mysterious young woman (Polley) and the studio's insurance investigator (Roth) are tenaciously on his trail.

Watching Howard seek out his parent/child connections is fascinating, mostly because he clearly has no skill at maintaining any sort of relationship. Hints drop everywhere about his random, wild lifestyle, so it's not surprising that he struggles to relate to his mother, lover and child. And Shepard plays it with a wonderfully oblivious, off-handed charm stands out at each step against the feisty, intensely focussed people he meets.

Wenders films it as if the modern world is an encroachment on the easy comfort of Howard's old-West. Witty touches are everywhere, from the nutty film set to Doreen's rockabilly bar to the way a gleaming AmTrak darts across the desert--shouldn't it be a line of clanking boxcars? This is echoed in T Bone Burnett's evocative music and Franz Lustig's vivid photography. And also the strong, defining performances, which are both bold and surprisingly quiet.

These people are so bad at talking to each other that when Doreen erupts with a coherent rant it's almost shocking. The interaction between everyone is so jarringly, realistically, unsatisfactory that the film begins to take on a frustratingly unfocussed tone. These are people who wear their souls on their sleeves, yet are unable to express themselves in a way anyone (including us) can understand. It's provocative and haunting, but as a moviegoing experience, it's rather elusive.
| | | |
| --- | --- | --- |
| | themes, language | 11.Apr.06 |