R E V I E W B Y R I C H C L I N E
dir Jean-Marc Vallée
scr Jean-Marc Vallée, François Boulay
with Michel Côté, Danielle Proulx, Marc-André Grondin, Émile Vallée, Pierre-Luc Brillant, Maxime Tremblay, Alex Gravel, Félix-Antoine Despatie, Natasha Thompson, Francis Ducharme, Mariloup Wolfe, Johanne Lebrun
release Can 27.May.05,
UK 21.Apr.06, US 3.Jun.22
05/Canada 2h07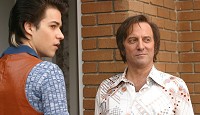 Father and son: Grondin and Cote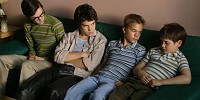 ---
TORONTO FILM FEST

This combination of inventive filmmaking and deeply introspective storytelling really works its way under our skin to let us see ourselves and our families in new, potentially revolutionary ways.

Gervais Beaulieu (Cote) is a Patsy Cline fan raising five sons with his patient, observant wife Laurianne (Proulx). Their sons' names are indicative of his obsession: egghead Christian (Tremblay), bad boy Raymond (Brillant), sporty Antoine (Gravel), sensitive Zachary (Emile Vallee, then Grondin) and happy child Yvan (Despatie). This is Zac's story--Dad's favourite due to his artistic gifts, until he starts to suspect there might be a sexuality issue here. Over the next decade both will have to come to terms with this. And it won't be easy.

Director-cowriter Vallee recreates the 60s and 70s beautifully, indicating the passage of time with fashion, hairstyles and, most evocatively, the music that's so important to the characters themselves. The period look is a remarkable collection of authentic detail, nostalgia and fun-poking, and in this setting the characters are allowed to really blossom and grow. The cast is simply wonderful, delivering raw, open performances that catch us in the back of the throat. We really identify with their internal yearnings, awkward interactions and desperation to break out of (or cement) their family roles.

This is a complex and slightly over-stretched story, but the fact that it's based on cowriter Boulay's own life gives it a bracing truthfulness, even at its most outrageous (such as Zac's "gift" for healing everyone but himself). Finely observed details and bravely expressed emotions are the key, and this film overflows with both. The raw humour keeps us laughing, even as moments of astonishing emotion overwhelm us. And the margins are full of beautifully written and played side characters.

This is the kind of film that haunts us long after we leave the cinema. It's packed with such a variety of emotional highs and lows--from Zac's violent self-loathing to his spiritual quest for meaning. Even if the film's final fourth feels a little off-topic and meandering, it snaps back into place beautifully for the nicely underplayed, but overwhelmingly powerful conclusion. Gorgeous.
| | | |
| --- | --- | --- |
| | themes, language, sexuality, drugs, violence | 25.Jan.06 |