R E V I E W B Y R I C H C L I N E
dir Anand Tucker
scr Steve Martin
with Claire Danes, Steve Martin, Jason Schwartzman, Frances Conroy, Bridgette Wilson-Sampras, Sam Bottoms, Rebecca Pidgeon, Shane Edelman, Anne Marie Howard, Gina Doctor, Joshua Snyder, Laura Grady
release US 21.Oct.05, UK 20.Jan.06
05/US Touchstone 1h44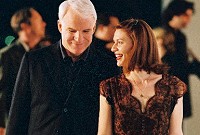 Are you my soulmate? Martin and Danes





There's an epic quality that threatens to swamp this simple love story--tricky and fluid cinematography, a richly sumptuous Barrington Pheloung score, a slightly intrusive voiceover. But it's still one of the most intelligent and satisfying romances in ages.

Mirabelle (Danes) works at the glove counter in Saks. From Vermont, she finds Los Angeles a lonely place, and is encouraged by a radio chat show to find a man, any man, for company. First up is Jeremy (Schwartzman), an adorable loser with an askance look at life and hundreds of little tics. Second is Ray (Martin), a seductive older man who's charming, wealthy and successful. Deep down, both men are essentially the same. But only one has the capacity to reciprocate Mirabelle's love.

Martin's screenplay is wry and observant, sharply funny and strongly emotional, full of details that draw us in to all three flawed characters. It's about the hope of finding a connection with someone, and Martin fills it out with hysterically astute side characters (Wilson-Sampras is superb as Mirabelle's jealous colleague) and deftly imagined sequences (the first dates are classic film scenes, and the second date with Jeremy is even funnier). The story also touches on things like self-help tapes and anti-depressants, which seems rather gimmicky, but adds texture.

Tucker directs with a stylish grandeur that kind of distracts from the story's simplicity. But he also he captures the characters' nervous energy, staying centred on their expectations and perceptions. Danes opens Mirabelle's soul beautifully--sexy, strong, smart, fragile, fascinating. Martin adds a touch of melancholy that keeps Ray from becoming a dirty old man; while Schwartzman's Jeremy is a likeable bundle of nerves who actually runs much deeper. All three are funny, vulnerable, over-eager and sometimes not very likeable. But they're so authentic that we can't help but identify with them, especially in their weaknesses.

This is witty, observant filmmaking about loving and making sure that the other person feels loved beyond whatever words we say. Sure, this isn't hugely original, but with such strong writing, directing and acting, it's a little film that does some great things.
| | | |
| --- | --- | --- |
| | themes, language, some sexuality | 10.Oct.05 lff |