R E V I E W B Y R I C H C L I N E
dir Roman Polanski
scr Ronald Harwood
with Barney Clark, Ben Kingsley, Jamie Foreman, Harry Eden, Leanne Rowe, Lewis Chase, Edward Hardwicke, Frances Cuka, Jeremy Swift, Mark Strong, Liz Smith, Alun Armstrong, Michael Heath, Gillian Hanna, Chris Overton, Paul Brooke
release US 23.Sep.05, UK 7.Oct.05
05/UK Pathe 2h10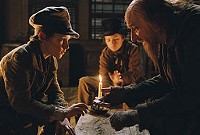 Got to pick a pocket or two: Clark, Eden and Kingsley



It's been 25 years since Polanski's gorgeous film of Thomas Hardy's Tess. And now he turns his skills to Dickens with this definitive adaptation, which can stand proudly with two endearing favourites--David Lean's relentlessly grim 1948 version and the strangely cheery 1968 musical.

Oliver (Clark) is a 10-year-old orphan in a brutal Victorian workhouse, about to embark on a life-changing odyssey. Sold to an undertaker (Heath), he escapes and runs to London, where he's adopted by Fagin (Kingsley) and his team of street urchins. While learning the pickpocket trade from Fagin's sidekick, the Artful Dodger (Eden), a mix-up lands him in the home of a rich man (Hardwicke). Worried about being betrayed to the cops, Fagin and his evil boss Bill (Foreman) plot to get him back.

Polanski freshens this well-worn story with wit and realism. He avoids cute sentimentality (no mean feat) and doesn't shy away from the gruesome realities of a period in which orphaned children, poor people and women are treated with disdain. In this sense, Polanski is making a remarkably astute comment about the modern world, although he never makes the parallel too obvious.

Production values are sheer magic--impeccably detailed and completely believable. And the story's jammed with strong characters, which the cast obviously relish playing. Kingsley shamelessly scene-steals as Fagin, the quirky rogue we can't help but like, as Oliver does. We can see the compassion (and maybe a touch of madness) beneath his villainous exterior. Clark is solid in the demanding central role, never drifting into adorable-child mode or relying on overwrought emotions, even when a scene might call for them. Polanski keeps him, and the other children, remarkably balanced. And if the supporting roles are a bit one-sided (Foreman's relentless despicability, Hardwicke's ceaseless optimism), at least they balance each other.

Polanski also knows how to inject real-life touches throughout the film, flashes of humour appear just when we need them, as does wry irony (such as the contrast between the fat-cat workhouse bosses and their bony young workers). Involving, captivating and nearly note perfect--in other words, a proper classic.
| | | |
| --- | --- | --- |
| | themes, violence, grisliness | 10.Aug.05 |