R E V I E W B Y R I C H C L I N E
dir-scr Ol Parker
with Piper Perabo, Lena Headey, Matthew Goode, Darren Boyd, Celia Imrie, Anthony Head, Sue Johnston, Eva Birthistle, Sharon Horgan, Rick Warden
release US 27.Jan.06,
UK 16.Jun.06
05/UK BBC Films 1h33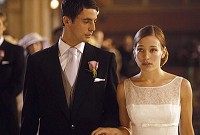 Wedding jitters: Goode and Perabo





There's a strong Four Weddings vibe here--a bright and sunny British rom-com full of young, wealthy characters and underscored with melancholy. But a flood of follow-your-heart banality drowns it in the end.

Rachel and Hector (Perabo and Goode) are a long-time couple finally tying the knot in a grand wedding ceremony. Guests include Rachel's flustered mother (Imrie) and zoned-out father (Head), and Heck's womanising best man Coop (Boyd). Everyone feels a spark when they meet the sexy florist Luce (Headey), who challenges notions of love and attraction and leads Rachel on a voyage of self-discovery that threatens to undo everything.

The film is a series of conversations and running gags--mostly involving Luce's shop and the reasons people buy flowers. Relationships are the issue here, and writer-director Parker starts out well, examining the disparity between long-term commitment and love-at-first-sight sparks. But he falls completely for the spark; his main message seems to be that commitment is boring. And that rings so false that it makes the whole film feel contrived and pointless.

Performances are energetic enough to keep us hooked. Perabo is smiley and pretty, with only faint shadows flitting across her brow as she inexplicably contemplates a whopping change from straight to gay. The sudden, vague lust between her and Luce is only remotely believable due to Perabo's yearning face and the superb Headey's intense likeability. The male roles are utterly thankless--Goode is only required to be oblivious and bland, Boyd to be a comical cad with flashes of wisdom, and Head the unfunny burnout with a random moment of lucidity.

Some dialog touches on genuine insight, but since Parker has clearly made up his mind in advance, the discussions are one-sided and unconvincing--he never actually examines the themes. And this leaves a gaping hole in the film, as does the fact that the comedy isn't very funny, the characters aren't particularly kind, and the plot isn't remotely credible, right up to the appalling race-to-the-station climax (not to mention the "you're sad, so I brought you some sweets" schmaltz-fest). It's bright enough to be watchable, but only just.
| | | |
| --- | --- | --- |
| | themes, language, innuendo | 19.Dec.05 |


Jeanette Trifillis, Baltimore, Maryland:

"From the point of a gay woman, the script was awsome. Loved the witty sence of humor. My friends and I will be quoting line from that movie for years to come. The chemisrty between Rachel and Luce was a romantic longing that does only seem to happen once in life. I felt the adrenaline rush of the two hands meeting in the classroom sceen as if it were me. From a member of the gay community, Thank you! Finally I feel we are portraid realistically through this film. And on a personal note Thank you for leading me back to the feeling I thought lost." (9.Feb.06)