R E V I E W B Y R I C H C L I N E
dir Thomas Vinterberg
scr Lars von Trier
with Jamie Bell, Mark Webber, Chris Owen, Alison Pill, Michael Angarano, Danso Gordon, Bill Pullman, Novella Nelson, Teddy Kempner, Trevor Cooper, Matthew Geczy, Thomas Bo Larsen
release UK 5.Aug.05, US 23.Sep.05
05/Denmark Zentropa 1h41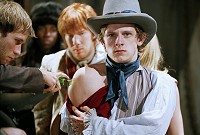 This could hurt: Webber, Gordon, Owen and Bell



See also: INTERVIEW
WITH THOMAS VINTERBERG
& LARS VON TRIER

Von Trier and Vinterberg combine their considerable skills on this expertly told fable, digging into the thorny issue of global peacekeeping with a strong, affecting story.

Dick (Bell) is a teen with a tragic past who's committed to pacifism. So when he becomes obsessed with a small pistol, he develops a set of strict rules. Soon he has a group of like-minded friends (gun expert Webber, high-calibre shooter Owen, ricochet ace Pill, anxious youngster Angarano) who have "partners", handguns they carry but never brandish. They call themselves Dandies and care for their guns like lovers, only shooting them in a disused mineshaft they adopt as their "temple". But the arrival an outsider (Gordon) changes things.

Von Trier's fantasy version of America, based on movies and news reports, has never been this vivid. Credit to Vinterberg's startling realism, Anthony Tod Mantle's striking cinematography, and a cool score featuring the Zombies. The action is centred around the town square, which brings both a theatrical sensibility and the resonance of a Western. The constant, lurking presence of the gentle sheriff (Pullman) adds to this, especially when he begins to threaten the teens' secret society. This almost dreamlike feel is simply beguiling--we're drawn into the story's powerful metaphors without even realising it.

Bell gives a solid, introspective turn in the central role--fascinating, likeable, tormented by love and betrayal, and completely out of touch with what's really going on around him. Like most teens, really. His friends all have similar inner conflicts, and together there's a real sense of camaraderie and misplaced nobility, brought to life subtly by the superb cast. The way they slowly reveal the film's central ideas is remarkable--an almost natural progression from playfulness to curiosity to understanding to action. And adults in the town can't--and won't--understand them. So who's really more dangerous here?

You'll have to watch the film to find out who Wendy is; the film's narration is a letter to her, in which Dick pours out his angst in a heartbreaking way that gets increasingly cautionary and chilling. This is an engaging, beautifully filmed story that says things we badly need to hear.
| | | |
| --- | --- | --- |
| | themes, language, violence | 31.May.05 |


Robin Kelly, Birmingham, UK:

"This is a warning: Dear Wendy may look like a drama and smell like a drama but it is in fact a 'political allegory'. So there are no believeable characters and the story doesn't make any sense. This is apparently a message to President Bush (I hope they remembered to FedEx a print to the White House), but it even fails as an allegory unless the message really is as simplistic as 'look what happens when people fall in love with guns'. Wow! Thanks for the insight, Lars. OK, so you've got to allow your heroes an occasional misfire, but despite a promising beginning this ends up as lazily written and a shocking waste of talent." (14.Aug.05)