R E V I E W B Y R I C H C L I N E
dir Mike Johnson, Tim Burton
scr John August, Caroline Thompson, Pamela Pettler
voices Johnny Depp, Helena Bonham Carter, Emily Watson, Christopher Lee, Joanna Lumley, Albert Finney, Tracey Ullman, Paul Whitehouse, Richard E Grant, Jane Horrocks, Michael Gough, Danny Elfman
release US 16.Sep.05,
UK 21.Oct.05
05/UK Warners 1h28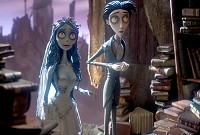 Looking for answers: Emily and Victor




It's been too long since Tim Burton's last stop-motion gem, The Nightmare Before Christmas (1993), but the wait was worth it. This is another wonderfully macabre fable that feels like a timeless classic from the moment it starts.

Victor Van Dort (voiced by Depp) is dreading his impending marriage to Victoria Everglot (Watson). But it's the perfect match: the Van Dorts (Ullman and Whitehouse) are nouveau riche looking for respectability, while the Everglots (Lumley and Finney) are penniless aristocracy in need of cash. Surprise, Victor and Victoria turn out to actually like each other. Then after an attack of nerves, Victor takes a walk in the woods, where he inadvertently marries the murdered bride Emily (Bonham Carter) and becomes stranded in the land of the dead.

Burton's gleefully gruesome sensibilities will delight kids, while the wry subtext gives grown-ups plenty to chew on. The fairy tale plot is bracingly simple, as Victor first tries to get back to the land of the living, then has to choose between two women. Elfman's energetic songs cheerfully prod the story along, filling in back stories and adding a bluesy edge to the whole thing.

The script and vocal cast turn each character into a vivid bundle of nerves and longings--even small side roles are great fun, most notably Lee's stern pastor, Gough's crackly elder, Horrocks' helpful spider and Grant's slimy Lord Barkis. Depp is, of course, terrific in the central everyman role as the shy, bewildered Victor. While we recognise the actors in their voices and little visual hints, they're refreshingly playing proper characters, not themselves.

And then there's the visual imagery. Burton and crew have perfected stop-motion to such a degree that the film looks flawless--detailed, flowing, living and breathing, as it were. The designs are outrageously stylised, but they gorgeously reflect the inner life of these characters and places, from the drab grey of the living world to the vibrant zest of the graveyard. It's relentlessly hilarious, in a bone-dry sort of way that balances the sometimes scary creepiness. And it's utterly exquisite.
| | | |
| --- | --- | --- |
| | themes, violence, suspense | 8.Sep.05 |