R E V I E W B Y R I C H C L I N E
dir Neil Jordan
scr Neil Jordan, Patrick McCabe
with Cillian Murphy, Liam Neeson, Stephen Rea, Brendan Gleeson, Gavin Friday, Ruth Negga, Laurence Kinlan, Eva Birthistle, Bryan Ferry, Ian Hart, Steven Waddington, Ruth McCabe
release US 18.Nov.05,
UK 13.Jan.06
05/Ireland Pathé 2h19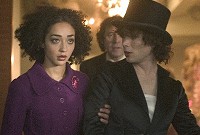 Oh, it's magic: Negga, Rea and Murphy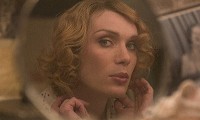 Lively and enjoyable, but far too long, Neil Jordan continues to tell intriguing Irish stories in unusual ways (The Crying Game, The Butcher Boy). And here he catches a hippy vibe to tell the colourful story of Patrick "Kitten" Braden.

Patrick (Murphy) is an androgynous cross-dresser who grew up in a small Irish village without parents, watched over by a helpful local priest (Neeson) and two close friends (Negga and Kinlan). When old enough to go off on his own, he heads for groovy '70s London to find his mother (Birthistle) and make some sense of his life. Along the way he makes a series of friends--glam-rocker (Friday), children's performer (Gleeson), friendly magician (Rea). But he's constantly dogged by the troubles of the time: poverty, identity and IRA violence.

There's a vivid edge to this story that keeps us watching, even if it never quite connects meaningfully beyond Kitten's personal quest. It helps that Murphy plays him with a huge dose of pathos--this (wo)man is almost defined by his naivete, not remotely stupid but unwilling to admit that he knows the score, so he continues blithely along on the brink of destruction, constantly needing rescuing. It's a remarkable performance because it's both outrageous and simple at the same time. And of the people around him, Neeson registers the strongest as a man finally forced to confront an obvious truth that, by definition, will change his life.

The 1970s clothing was so wild that you'd hardly notice a man in a gold lamé frock. And Jordan assembles this story in glam period style, complete with subtitled observations from the robins. Kitten narrates as if it's a fairy tale, complete with insightful asides and (far too many) chapter titles. There's a lot of silliness plus jarring shifts into violence and destitution. But sliding back and forth between comedy and tragedy is the film's strongest suit, most notably when a sudden terrorist bombing moves into a horrific interrogation and then a hilarious spy fantasy. It's in this offbeat mix that the film somehow manages to connect with us.
| | | |
| --- | --- | --- |
| | themes, language, sexuality, violence | 6.Oct.05 |