R E V I E W B Y R I C H C L I N E
dir Nicole Kassell
scr Steven Fechter, Nicole Kassell
with Kevin Bacon, Kyra Sedgwick, Benjamin Bratt, Mos Def, David Alan Grier, Eve, Hannah Pilkes, Michael Shannon, Carlos Leon, Kevin Rice, Gina Philips, Van Cameron
release UK 30.Oct.04 lff, US 24.Dec.04
04/US 1h27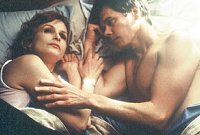 You can't shock me: Sedgwick and Bacon



See also: INTERVIEW
WITH KEVIN BACON


This drama asks us to travel an unsettling road with a desperate-to-recover paedophile. And we actually begin to feel for this deeply troubled man, even as the film continually jolts us with its sensitive and unfiltered approach.

Walter (Bacon) has just finished a 12-year prison term. Except for his brother-in-law (Bratt), his friends and family have turned their backs on him. So even though he's a skilled carpenter he takes a job in a lumberyard and keeps to himself. But people are curious--understanding boss (Grier), nosey company secretary (Eve), pushy local cop (Def). As he begins a relationship with another outsider at work (Sedgwick), he dares to hope his life might be normal someday.

There's a real salt-of-the-earth sensibility to this film that captures the setting and slowly cracks open Walter's well-guarded world. Therapy sessions, reluctant conversations, journal entries and furtive glances all let us into his mind, as Bacon delivers a startlingly edgy performance that bristles with controlled energy and subdued emotions. Unlike the people around him, we know Walter's desperate yearning to overcome his problem. And we actually ache for him when he cries out in anguish, John Merrick-style, "I'm not a monster!"

But Kassell doesn't let us off that easily! She pushes the issue further, challenging us to confront our own deep prejudices as she examines the tough, elusive side of redemption and forgiveness. She slowly constructs the story like a thriller with all the usual elements (including a little girl in a modern-day version of a red riding hood!). This is a bracingly disconcerting story, with a climactic scene on a park bench that will haunt us long after we leave the cinema.

Bacon's understated, quietly jittery performance is so deeply personal that we're almost embarrassed to intrude on his life. And the people around him are equally complex, revealing little secrets and surprising us with moments of both compassion and treachery. Each actor digs deep into the inner life of his or her character and puts it on screen for us to see--without any Hollywood histrionics. This is powerfully thoughtful filmmaking, both lyrical and shocking. And astonishingly full of heart.
| | | |
| --- | --- | --- |
| | themes, innuendo, sex, violence | 26.Oct.04 |