R E V I E W B Y R I C H C L I N E
dir-scr Wong Kar-Wai
with Tony Leung, Ziyi Zhang, Gong Li, Faye Wong, Carina Lau, Maggie Cheung, Takuya Kimura, Chang Chen, Thongchai McIntyre, Dong Jie, Sum Wang, Lam Siu Ping
release HK 29.Sep.04,
UK 14.Jan.05, US 5.Aug.05
04/China 2h07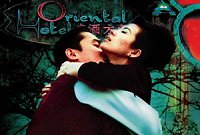 Elusive love: Leung and Zhang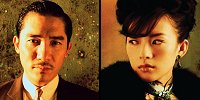 Writer-director Wong with cinematographer Christopher Doyle are a potent team, and this romantic epic plays to both of their strengths with its emotionally devastating story and otherworldly, dreamlike imagery. It's too much to take at times, and rather confusing, but it's also breathtakingly passionate.

Chow (Leung) is a writer in 1960s Hong Kong who loves the ladies. Although real love is just out of reach as he romances a series of women, from an elusive vamp (Lau) and the spicy girl in the room next door (Zhang) to his landlord's love-struck daughter (Wong) and an elegant grand dame (Gong). Meanwhile, he writes evocative sci-fi stories set in 2046, which is also his room number. For Chow, life is a long train ride into the future: he can't change course or turn back.

Alert moviegoers will note that this is actually a sequel to Wong's last film, In the Mood for Love (2000), which centred on Chow's relationship with a married woman (Cheung, who appears briefly here). This film also examines the nature of romance--how relationships are both miraculous and fragile. And Wong goes even deeper here, layering Chow's fantastic view of the future, which is gorgeously rendered with lush effects and a feverish sense of motion. This is a film about how far beyond our control love is. We have to, quite literally, fall in!

It's impossible to explain just how beautiful this film is--camera work, editing, music, design, costumes, effects, lighting, hair and make-up, everything is just astonishingly, ravishingly exquisite. Chow's voice-over gives the film a strong noir sensibility, along with the seedy-hotel setting, femme fatales and sardonic wit.

Meanwhile, Wong and his cast add powerful substance as well. All of the actresses are fantastic, most notably Zhang's detailed and wrenchingly real performance as a woman who can't quite believe her luck. Or lack of it. And Leung is dashing, charming, sexy and ultimately heartbreaking as a man who just can't get the timing right: "It's no good meeting the right person either too soon or too late." For him, love is unrequited, unreturned, unresolved and unexpected. And yet he's hopeful that it's still out there.
| | | |
| --- | --- | --- |
| | themes, language, sexuality | 27.Oct.04 lff |