R E V I E W B Y R I C H C L I N E
dir Bronwen Hughes
scr Bima Stagg
with Tom Jane, Dexter Fletcher, David O'Hara, Deborah Kara Unger, Ashley Taylor, Marius Weyers, At Botha, Lionel Newton, Melanie Merle, Hannes Muller, Shaeleen Tobin, Peter Gardner
release SA 10.Oct.03, US 6.Aug.04, UK 27.May.05
Newmarket
03/South Africa 1h51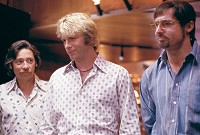 Now here's the plan: Fletcher, Jane and O'Hara





Nothing about Hughes' previous films (the dire Harriet the Spy and the even-more-unwatchable Forces of Nature) could prepare you for this stunner. Where her earlier films were hyperactive and almost pathologically annoying, this is a gripping, focussed and astonishing true story.

Andre Stander (Jane) is a captain on the Johannesburg police force in 1976, but after some horrific police action during a peaceful anti-Apartheid rally, he turns his attention to undermining the cops, brazenly robbing banks, going to prison, then escaping and forming a gang with two fellow escapees (Fletcher and O'Hara). Of course, his wife (Unger) is less than thrilled by this, as is his high-ranking father (Weyers).

Stander was one of the most notorious criminals in South Africa, and the film captures his story brilliantly. The period vibe is gritty and golden; it opens like an expanded Starsky & Hutch episode, and everything contributes to the tone--earthy costumes, big hair, groovy music, even the sex scenes have a '70s feel. Meanwhile, Hughes employs dynamic camera work to capture the events themselves. The pivotal riot scene is absolutely jaw-dropping! And there's a strong internal energy to scenes between Stander and his wife, gang and fellow cops.

Jane gives a terrific star-making performance: we feel his sense of rebellious wit, even as he gets rather caught up in both the money and the folk-hero fame. The role is also extremely varied--from sparky romance to deep introspection, from cavorting naked on a beach to being beaten senseless in an act of righteous revenge. The cast around him are also extremely good, but this is Jane's film.

While the plot is edgy and exciting, Hughes and screenwriter Stagg fill scenes with earthy humour. These robbers are cheeky and lovable, with zany costumes and moments of authentic, endearing bumbling. Through it all, Stander's purpose is clear: he's robbing banks to prove that a white man can get away with anything in this unjust society. And this is what not only anchors the film in reality, but lets it say something important without ever being heavy-handed.
| | | |
| --- | --- | --- |
| | themes, language, violence, nudity | 29.Oct.04 lff |