R E V I E W B Y R I C H C L I N E
dir-scr Gregg Araki
with Joseph Gordon-Levitt, Brady Corbet, Michelle Trachtenberg, Jeffrey Licon, Elisabeth Shue, George Webster, Chase Ellison, Bill Sage, Lisa Long, Mary Lynn Rajskub, Chris Mulkey, Billy Drago
release US 6.May.05, UK 20.May.05
04/US 1h39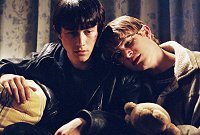 Brothers in arms: Gordon-Levitt and Corbet




• TOP 10 FILM
• BEST DIRECTOR

Closing night film:
LONDON L&G FILM FEST


Araki takes a huge leap forward with this deeply provocative and moving drama based on Scott Heim's novel. While maintaining his jerky editing style, he avoids his usual amateurishness and plays on his strengths. This film is lushly filmed and acted with raw beauty and subtlety even when the story gets seriously disturbing.

In the Kansas summer of 1981 two 8-year-old boys, Neil and Brian (Ellison and Webster), are abused by their coach (Sage). A decade later, Neil (Gordon-Levitt) has become a cynical gay hustler who heads off to New York with his best pal (Trachtenberg). While the much more naive Brian (Corbett) has completely blocked the experience, thinking maybe he was abducted by aliens. Through a mutual friend (Licon) they're about to discover what they have in common.

This isn't easy to watch. Araki refuses to sanitise his subject matter. He artfully examines paedophilia without holding anything back, and he treats his characters with sensitivity and honesty. Maybe too much honesty! I'm not sure I want to know how he got such astonishing performances from the child actors. It's never explicit on screen, but we're in no doubt what's going on. And in this sense it's far more graphic than most films on the issue. It also packs a far more powerful punch.

Besides the excellent young boys, Gordon-Levitt and Corbett inhabit their characters with palpable authenticity. Both bring strong layers of resonance to the film, even in the most unsettling scenes. The female roles are somewhat less defined, although all have very strong moments. Shue is especially creepy as Neil's far too sexually expressive mother. And just watching Long as Brian's mother is hilariously good fun, especially in scenes with Rajskub's UFO-nut.

Through it all, Araki maintains an all-American look that nicely captures the tone of the period. The subjective perspective--Neil's rose-coloured memories, Brian's nosebleed-inducing nightmares--effectively engages us in their stories. So when the moment of catharsis comes, it's almost unbearably unnerving and emotional. This is extremely daring filmmaking examining a sensitive topic in a grown-up way without any easy Hollywood answers. As a result, it puts us into the skin of these damaged souls so we can just begin to understand.
| | | |
| --- | --- | --- |
| | strong themes, language, sex, violence, nudity | 14.Oct.04 |

Elise Nyborg Eriksen, Oslo, Norway:

"Gregg Araki has made a film that describes sexual abuse in a very refined way. This film is interesting both in composition and subject matter. By telling two parallel stories the director offers his audience different ways of dealing with childhood traumas. The actors do a spectacular job, especially Joseph Gordon-Levitt who is a name for the future. This is a movie that is hard to watch, but even harder to forget." (29.Nov.04)