R E V I E W B Y R I C H C L I N E
dir Ken Loach
scr Paul Laverty
with Atta Yaqub, Eva Birthistle, Shamshad Akhtar, Ghizala Avan, Ahmad Riaz, Shabana Bakhsh, Gary Lewis, Shy Ramsan, Emma Friel, Pasha Bocarie, John Yule, Gerard Kelly
release UK 17.Sep.04, US 26.Nov.04
04/UK 1h44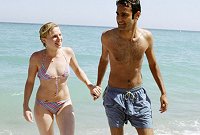 Secret getaway: Birthistle and Yaqub

Winner of two awards at BERLINALE 2004

Loach and Laverty are becoming experts at setting personal stories against important political issues. This is their sixth collaboration, and it's possibly their finest film--a beautiful love story with astonishing ramifications.

After growing up in Glasgow, the three Khan children are increasingly less Pakistani. The eldest, Rukhsana (Avan), is happy with a marriage arranged by their parents (Riaz and Bakhsh). The youngest, Sadia (Akhtar), is quietly trying to break the family ties so she can go away to university. And in the middle, Casim (Yaqub) wants to keep everyone happy. So it's a problem when he falls for Irish schoolteacher Roisin (Birthistle), who's annoyed by Casim's family-honour pressures ... until she faces up to the brutal demands of her own culture.

The film's striking success is the way Laverty and Loach focus not just on the seeming tyranny of Asian-Muslim culture, but also the even more unreasonable religious pressures in the UK. Their even-handed approach examines expectations and stereotypes with both sensitivity and indictment. This is extremely intelligent filmmaking, and it follows beautifully from their last feature Sweet Sixteen to examine modern life in Scotland.

The unknown cast is superb. Yaqub is so charming that we like him immediately--like Roisin does--and we also grasp Casim's double-edged life, separating his role as dutiful son from real life outside the family. Even when Casim does or says something horrible, we still like him--all credit to Yaqub! Meanwhile, Birthistle makes Roisin a fascinating, exceptionally strong-willed person we can identify with. The supporting characters are also complex and intriguing--stubborn yet sympathetic, fitting the stereotypes but never trapped by them.

This is a lively, bracingly natural film that's frequently very funny and surprisingly sexy as well. Laverty and Loach wisely open with their sermon this time (about the way diversity in the Muslim community is ignored by the West), and then concentrate on the love story. The result is an engaging and lovely romance set against a powerfully charged backdrop; it plays out like a serious version of East Is East, grappling much more deeply with issues of race, religion, politics and culture without being overwhelmed by them.
| | | |
| --- | --- | --- |
| | themes, language, adult situations | 30.Jun.04 |
Ae fond kiss, and then we sever;
Ae fareweel, alas, for ever!
Deep in heart-wrung tears I'll pledge thee,
Warring sighs and groans I'll wage thee.
Who shall say that Fortune grieves him,
While the star of hope she leaves him?
Me, nae cheerful twinkle lights me;
Dark despair around benights me.
I'll ne'er blame my partial fancy,
Naething could resist my Nancy:
But to see her was to love her;
Love but her, and love for ever.
Had we never lov'd sae kindly,
Had we never lov'd sae blindly,
Never met-or never parted,
We had ne'er been broken-hearted.
Fare-thee-weel, thou first and fairest!
Fare-thee-weel, thou best and dearest!
Thine be ilka joy and treasure,
Peace, Enjoyment, Love and Pleasure!
Ae fond kiss, and then we sever!
Ae fareweeli alas, for ever!
Deep in heart-wrung tears I'll pledge thee,
Warring sighs and groans I'll wage thee.