R E V I E W B Y R I C H C L I N E
dir Shane Meadows
scr Shane Meadows, Paddy Considine
with Paddy Considine, Gary Stretch, Toby Kebbell, Paul Sadot, Neil Bell, Paul Hurstfield, Jo Hartley, Seamus O'Neal, George Newton, Stuart Wolfenden, Emily Aston, Andrew Shim
release UK 10.Oct.04,
US 12.May.06
04/UK 1h26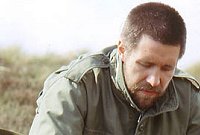 Getting even: Considine


After the wobbly gimmickry of Once Upon a Time in the Midlands, Meadows returns to a more organic style of filmmaking. The result is watchable and interesting, in a brutal psycho-killer revenge plot sort of way.

After seven years away, Richard (Considine) has come back to his Midlands hometown with vengeance on his mind. With his simple-minded brother Anthony (Kebbell) at his side, Richard tracks down Anthony's old cohorts one by one and taunts them with his intentions. He's clearly planning to murder them all, although we're not really sure what these chucklehead drug users and their thuggish leader (Stretch) have done to deserve death. Richard's ruthless and gleefully inventive approach is extremely disturbing--no two are dispatched in the same way.

Meadows establishes a melancholy tone right at the beginning that implies something more soulful is going on here. So when it shifts into a slasher film we feel almost betrayed. Especially since it's not until the very end that we find out the reason for Richard's tenacity. The film looks superb--working class grimness with grainy flashbacks and offhanded, often muttered dialog. There are moments of comedy as well, such as when Richard paints the thugs in their sleep or appears in a gas mask to taunt them. But when he starts killing them, we're simply not sure what they've done to Anthony! And when we eventually find out, it's a bit of an anticlimax.

Meadows cleverly builds the tone--humour, fear, paranoia, a sense of doom and a deep desire to survive. And Considine is especially good, again pouring himself into the character inside out. Richard is utterly believable in his quietly controlled rage--a nice guy gone mad. That said, without understanding his motive it's impossible to sympathise with him, especially as the murders get far too gruesome. No matter what the cause, no one deserves this! Around him, the whole cast is excellent, bracingly natural and authentic. But the ending feels like a desperate attempt to inject some emotion into the film. And it just doesn't work.
| | | |
| --- | --- | --- |
| | adult themes, violence, language, drugs, sex | 2.Sep.04 |


Katie Briggs, Sheffield:

"Absolutely fantastic, best film I have seen this year!" (30.Sep.04)

Roddy, Stirling:

"I have to say i went into this film with no expectations at all. To which i was engrossed and quite simply carried along the whole plot with nothing but impending doom to the sorry bunch that his revenge is based upon. Overall i think this film is absolutely amazing from start to finish and would highly recommend it to anyone. More films of this qaulity please from the British industry. Genre breaker, classic." (27.Feb.05)
mike read, houston tx:

"i think it is a very good film throughout, not just because the film was made close to where i lived and i could sit there and say 'look theres riber castle'. but because of the closeness to the film itsself and the acuracy in which the film points out the grave problem which most small midland areas are going through nowadays, small being the operative word and small-minded being the problem. but to anybody who experienced living in such depressing little towns, like matlock for instance, and understands the thuggish behaviour of small-minded junkies, who constantly avoid people like richard, you would see the atractive part of the film and you would also understand why they all deserved it at the end." (25.Mar.05)
daniel webb, newport S Wales:

"100% awesome! Never seen Consodine before but gotta keep an eye out now. He is by far the white version of Denzil Washington. Keep it up Pad, maybe some day we'll meet and I'll get the chance of becoming an actor! A+" (21.Dec.06)
rennie, nottingham:

"this is by far the best film i have ever seen, even with the unexpected ending, i can still watch it over and over again. the laid back approach works well, considine is an actor ill be watching out for." (31.Jul.07)