SHADOWS ON THE WALL | REVIEWS | NEWS | FESTIVAL | AWARDS | Q&A | ABOUT | TALKBACK

SHADOWS ARTHOUSE FILMS '04
Films unlikely to be showing at your local multiplex...
On this page: THE CHORUS | INHERITANCE
JU-ON: THE GRUDGE 2 | LIFE IS A MIRACLE | ROLLING FAMILY
< < M O R E | M O R E > >
More mainstream art films have their own pages.
Other offbeat films are at: SHADOWS FILM FESTIVAL | SHORT FILMS
last update 10.Dec.04

THE CHORUS [Les Choristes]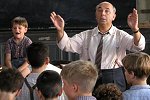 dir Christophe Barratier • scr Christophe Barratier, Philippe Lopes-Curval
with Gerard Jugnot, Francois Berleand, Jean-Baptiste Maunier, Maxence Perrin, Marie Bunel, Jean-Paul Bonnaire, Gregory Gatignol, Cyril Bernicot, Kad Merad, Philippe Du Janerand, Jacques Perrin, Didier Flamand
release France 17.Mar.04, US 14.Jan.05, UK 11.Mar.05 • Pathe 04/France 1h35


REVIEW BY RICH CLINE

A massive hit in France, this is an uplifting film in the Dead Poets Society mould, right down to a stirring captain-my-captain finale. It's also very well made, superbly acted and thoroughly entertaining.
Famous conductor Pierre (Jacques Perrin) is taken down memory lane when he meets his long-lost schoolmate Pepinot (Flamand). They relive the arrival in 1949 of Clement Mathieu (Jugnot), the new teacher at their reform school, where the young Pierre (Maunier) is always in trouble. Pepinot (Maxence Perrin) is young enough to just enjoy life even with the stern headmaster (Berleand) and several very troubled students. So Mathieu decides to start a choir among the boys, and its effect ripples through the school in various ways.
Sure, this is one of those stories about the power of art to tame the savage young male; but the script keeps us interested through sly wit and very clever details. And yes, most of the characters are stereotypes; but the cast bring them to life very well--Berleand's cruel principal, Jugnot's caring-and-spirited teacher, Bonnaire's kindly handyman, with the boys ranging from Maunier's prodigy to Gatignol's thug to Maxence Perrin's cutey-pie.


The school is called Fond de l'Etang (Rock Bottom), and it's indeed the worst place a difficult boy can find himself. Barratier films it in a refreshingly un-precious way--the sets look realistically grim, with bleak winter light giving way to the warmth of spring. But the film also captures the energy and exuberance of youth, even in such an intimidating setting. And there's a subtle exploration of the clash between idealism and realism, compassion and control.
But this isn't a message film. It's just a sweet and simple story about someone who wants to do something nice for the boys! This let's-form-a-choir tone is only slightly darkened by Mathieu's failed yearning to be a composer, as well as his tentative crush on Pierre's sexy mother (Bunel). And the boys' rowdiness feels a bit on the gentle side, really. But when you're watching a nice story like this, does it matter that real life is rarely this cute? [PG adult themes, language, violence] 27.Nov.04

INHERITANCE [Arven]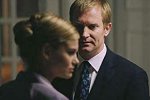 dir Per Fly • scr Per Fly, Kim Leona, Mogens Rukov, Dorte Hoeg
with Ulrich Thomsen, Lisa Werlinder, Ghita Norby, Karina Skands, Lars Brygmann, Peter Steen, Diana Axelsen, Jesper Christensen, Ulf Pilgaard, Dick Kayso, Sarah Juel Werner, Linda Myrberg
release Denmark 21.Feb.03, US 9.Jul.04, UK 31.Dec.04 • Zentropa 03/ Denmark 1h47


REVIEW BY RICH CLINE

Here's another dark drama about family politics from Denmark, telling and insightful, inventively filmed and extremely well-acted as usual ... but why are Danish films so relentlessly bleak?
Christoffer (Thomsen) has a nice life in Sweden with his actress wife Maria (Werlinder), but it's turned upside-down when he inherits the family steel business. Back in Denmark, Maria is unhappy and Christoffer is plunged into the strains of a job that drove his father to suicide. And his pushy mother (Norby)doesn't help, nor does the fact that his sister and brother-in-law (Skands and Brygmann) are more than a little miffed that they aren't running the company they've given their lives to.
Director-cowriter Fly films this with an almost Dogme-like restraint, using mostly handheld cameras and natural lighting to capture the intimacies in every scene. Reactions, feelings and suppressed emotions are the key to this film, and they're beautifully and subtly expressed by the gifted cast. Thomsen is as good as ever in an extremely complex, mostly muted role that only occasionally dips into melodrama. This is his film completely, although the rest of the cast are able to build strongly defined side characters around him. These feel like real people we know--intriguing, engaging, exasperating. Of course, stressing the unspoken subtext like this makes the film utterly chilling and unnerving.
This is a powerful examination of the strengths and limits of family ties. The lost son comes home to take his rightful place as head of the clan, but he's reluctant and conflicted, slowly growing into his new role even though it costs him virtually everything he has ever wanted. It's such a searching, personal journey that it's very hard to watch at times, especially when he reluctantly follows through on dutiful business responsibilities that have staggering repercussions for the people he loves. The shadowy realities and aching truths are very difficult to watch, but Fly and his cast keep our interest with telling details and compelling characters. Even so, it's all rather overwhelmingly sombre. [PG adult themes, language] 11.Nov.04

JU-ON: THE GRUDGE 2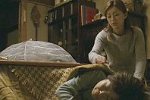 dir-scr Takashi Shimizu
with Noriko Sakai, Chiharu Niyama, Yui Ichikawa, Takako Fuji, Yuya Ozeki, Kei Horie, Shingo Katsurayama
release Japan 23.Aug.03, UK 7.Jul.06 • 03/Japan 1h35


REVIEW BY RICH CLINE • See also: THE GRUDGE [2004] | JU-ON: THE GRUDGE [2003]

This is Shimizu's fourth Grudge movie after two videos and the original Ju-on. And this is also the finest in the series so far, full of wit and mischief.
Kyoko (Sakai)is an actress dubbed the "horror queen", since she's starred in so many thrillers. Now she's appearing as herself alongside a TV journalist (Niyama) in a reality show about the famed house where several people died or disappeared. But as the camera starts filming, strange things begin happening to cast and crew. And to the people around them. It looks like the ghost of Kayako (Fuji) and her creepy blue son Toshio (Ozeki) are on the prowl again.
Shimizu has learned a lot since Ju-on. He layers this film with wit and inventiveness that he's only hinted at before. This is a tighter and smarter; even though it's a series of out-of-sequence segments like the other films, this one has an overall mystery-thriller feel to it. And each segment is a clever puzzle with its own gruesome climax. The characters are also more comical, engaging and complex. Sakai's Kyoko provides a fascinating connector through all the segments, especially with her varied relationships with her husband, mother and, yes, unborn child. Even Kayako is creepier this time.


The most intriguing thing is that Shimizu doesn't use any of these new techniques in his American remake of Ju-on (aka The Grudge with Sarah Michelle Gellar)! This is a crisper and jumpier film--the random scary scenes fit together much more closely, and Shimizu uses the silences just as effectively as a ticking clock or a puzzling rapping on the walls. There are wonderful details in every scene--references to other sequences, brief apparitions, clues as to what's going on.
We also get several hilarious moments of comic relief, including an extra (Ichikawa) who's just too freaked out to complete a single scene in the film within the film. And when we see the table full of prop wigs we just know what's coming--and it's both hilarious and disturbing when it happens. Overall the film is just as inexplicable (with no sense of the grudge travelling from one person to another), but its twisted little wrinkles and hideous Miike-like finale are unforgettable. [15 themes, violence, suspense, grisliness] 25.Nov.04

LIFE IS A MIRACLE [Zivot Je Cudo]
dir Emir Kusturica • scr Ranko Bozic, Emir Kusturica
with Slavko Stimac, Natasa Solak, Vesna Trivalic, Vuk Kostic, Aleksandar Bercek, Stribor Kusturica, Nikola Kojo, Davor Janjic, Adnan Omerovic, Obrad Durovic, Nelle Karajlic, Danica Todorovic
release UK 11.Mar.05 • StudioCanal 04/Yugoslavia 2h36


REVIEW BY RICH CLINE

You can't deny that Emir Kusturica is a gifted filmmaker with a lot to say, but in this case a superb story is drowned out by his zany and chaotic style.
Serbian railway worker Luka (Stimac) moves his family to a remote mountain region in 1992 Bosnia. His theatre diva wife Jadranka (Trivalic) and football-playing son Milos (Kostic) are seriously unhappy in such an isolated place. Then as war breaks out, Jadranka runs off with a musician (Karajlic), while Milos is sent to the front and captured. Soon Luka finds himself in charge of a young Muslim woman prisoner, Sabaha (Solak), who'll be exchanged for Milos. But when Luka falls in love with her everything gets even more complicated.


The narrative is strong and compelling, setting a Shakespearean romance against the rumblings and outbreak of war in a way that brilliantly and vigorously captures the spark of local culture. These eccentric people barely flinch when the bombs start dropping--life goes on, and their personalities remain undiminished. Kusturica captures this as cleverly as ever--with a lively and nutty energy that propels us through whatever happens next. Characters are vivid and marvellously well-played, even though they frequently go way over the top.
And this is where the film falters--so much of it is slapstick goofiness that neither the tender romance nor the raw horrors of war ever get a chance to grab hold. We're too busy trying to sift through the clutter (almost every scene has a raucous live musical number in it) to get any emotional resonance. That said, some scenes and characters are very strong, and Kusturica introduces us to some remarkable young actors (including the superb Kostic and Solak, as well as Kusturica's son Stribor as a smart young officer). And perhaps the strongest aspect of the film is the way it flouts expectations of a wartime film, showing us a side of the Bosnia-Serb conflict we've never seen. You just wish the comedy, tragedy and, especially, irony could shine through unhindered. [15 themes, language, violence, innuendo] 7.Dec.04

ROLLING FAMILY [Familia Rodante]
dir-scr Pablo Trapero
with Graciana Chironi, Liliana Capurro, Ruth Dobel, Carlos Resta, Bernardo Forteza, Marianela Pedano, Raul Viñona, Leila Gomez, Nicolás López, Laura Glave, Federico Esquerro, Sol Ocampo
release Arg 30.Sep.04, UK 11.Nov.05, US 25.Aug.06 • 04/Argentina 1h43


REVIEW BY RICH CLINE

Like a fly-on-the-wall documentary, this lively film captures four generations of a Latina family confined in a campervan. Funny, telling and more than a little frightening, the film gets well under the skin and leaves any message for us to find within ourselves.
At her 84th birthday party, Emilia (Chironi) gets a phone call from her sister back home in Misiones asking her to be her niece's matron-of-honour. So Emilia declares that the whole family is going to the wedding! Son Oscar (Forteza) dusts off his homemade motor home, and 12 family members pile in for the two-day journey from Buenos Aires to the coast. Along the way they're interrupted by various dramas, road obstacles and illicit romances; and as Emilia heads home after a whole lifetime in the capital, she begins to put her life into perspective.
This is a compilation of briefly glimpsed scenes, snatches of conversation and clips observing this feisty, chattering, emotionally chaotic family. It's so authentic that it's almost unnerving, capturing the joys and tension that emerge at any large gathering or relatives. These are the people we love the most in the world, and yet we don't want to spend too much time with them! Trapero's film captures this beautifully, although it would help to have nametags to identify everyone, especially when the in-laws start stirring things up.
There are so many characters--and all of them take their own internal journey--that the film is spread a bit thin. But the ties between them, old and new, are cleverly highlighted, while the performances are extremely raw and natural. There are moments of comedy, romance and real anguish, and Trapero (El Bonaerense) punctuates it with colourful footage of the changing landscape and cultural details of communities along the road. As it progresses toward the big family wedding, the film examines expectations, regrets, jealousies and rites of passage among this varied group of fascinating people. The relaxed approach makes it all rather elusive. The finale is extremely open-handed, letting us discover what it means without pushing any contrived sentiment at us. But that's actually refreshing, for a change. [12 adult themes and situations, language, violence] 9.Dec.04