SHADOWS ON THE WALL | REVIEWS | NEWS | FESTIVAL | AWARDS | Q&A | ABOUT | TALKBACK

SHADOWS ARTHOUSE FILMS '04
Films unlikely to be showing at your local multiplex...
On this page: ANATOMY OF HELL | FATHER & SON
LOVE ME IF YOU DARE | PRINCESA | WILD SIDE
< < M O R E | M O R E > >
More mainstream art films have their own pages.
Other offbeat films are at: SHADOWS FILM FESTIVAL | SHORT FILMS
last update 25.Sep.04

ANATOMY OF HELL [Anatomie de l'Enfer]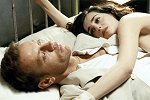 dir-scr Catherine Breillat
with Amira Casar, Rocco Siffredi, Jacques Monge, Claudio Carvalho, Carolina Lopes, Diego Rodrigues, Maria Edite Moreira, Joao Marques, Maria Joao Santos, Bruno Fernandes, Alexandre Belin, Manuel Taglang
release France 28.Jan.04, UK 26.Nov.04 • Canal+ 04/France 1h27


REVIEW BY RICH CLINE

After the more intriguing subtlety of Sex Is Comedy, you'd think Breillat might go somewhere new with this examination of sexuality and gender. Alas, not only is this film deliberately shocking, yawningly plodding and almost mind-bogglingly pretentious, but its message is laid on with a trowel: Men are idiots.
There are two unnamed characters and a bunch of extras. The woman (Casar) is obviously troubled by something as she goes out to a gay nightclub and picks up a hunky gay man (Siffredi). From here, she gradually seduces him--like she wants to prove her sexual superiority and the fact that every gay man really wants to sleep with a woman. It's a long, creepy seduction (she pays him to be there) as she just lies down on a bed and confronts him with her superior feminine wiles.


At least that's how I interpreted it. The only thing that's certain is that Breillat thinks men are easily manipulated and only good for one thing. Surely a film examining this theme could say some profound, provocative things. But Breillat settles for what she clearly hopes is unsettling, explicit imagery. If you've never seen a porn film it might be shocking. Especially with Breillat's yucky little wrinkles, which I will not mention in case you've just eaten. Or had a cup of tea.
She also alienates us through the pacing and dialog; the film is a dull sequence of yabbering, pretentious Frenchness! They just talk aimlessly, with a corny poetic lyricism that elicits more giggles than knowing sighs. And Breillat's narration makes it feel like a misguided feminist fantasy. (Maybe the subtitles are bad?) There's also the problem of homosexuality--Breillat simply dismisses the man's sexuality completely. He is instantly attracted to the woman. Maybe this could happen in an isolated situation, but in the real world her random selection of a man in a gay club would have resulted in, well, nothing. [18 adult themes and situations, sex, nudity, language, grisliness] 3.Sep.04

FATHER AND SON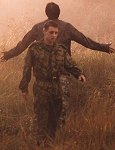 dir Alexander Sokurov • scr Sergei Potepalov • with Andrey Shchetinin, Aleksey Neymyshev, Alexander Razbash, Fedor Lavrov, Marina Zasukhina
release US 25.Jun.04, UK 20.Aug.04 • 03/Russia 1h23


REVIEW BY RICH CLINE

This strikingly beautiful film from Alexander Sokurov (Russian Ark) captures relationships in an ethereal way that gets way under the skin. And skin is clearly important to this view of masculinity.
The film is a collection of fairy tale-like scenes in the relationship between a brawny, boyish dad (Shchetinin) and his energetic 20-year-old son (Neymyshev), who's home from military school. The son has just broken up with his girlfriend (Zasukhina), who left him for another man, and he has a strong friendship with a neighbour (Razbash) his age. And they're visited by the son (Lavrov) of the father's missing friend. In all of this, the father is nearly overwhelmed with emotion as he sees the image of his late wife in his son's face and contemplates his son leaving home for good.


Sokurov films this with an otherworldly light that makes it utterly timeless--old world settings are dotted with more modern touches, deeply warming sunshine drenches every scene until the icy finale. Landscapes, buildings, faces and bodies are all photographed lovingly. And through it all there's an astonishing muscularity as these men interact with each other. Yes, there is plenty of homoerotic subtext if you look for it; the physicality and sexual tension is often very strong! At times they relate to each other like brothers, inseparable friends and even lovers. But it's actually more about the changing roles of caregivers, playmates and teacher-student.
Even with the lack of a specific time or place, and without a clear narrative, the film has a strongly emotional through-line that carries us, building and growing. It's a parable about humanity, lovingly examining how men grow and change in the way they interact, referring intriguingly to the way men coming home from war often seem like different people altogether. There are also some rather unsettling intervals that deal with rivalries, jealousy, dares and even violence. But above and under and through it all, this is a fable about the indescribable love between a father and a son--as close as two men can be and yet constantly diverging. Absolutely beautiful. [PG themes, sensuality] 9.Aug.04

LOVE ME IF YOU DARE [Jeux d'Enfants]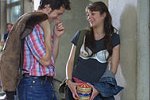 dir-scr Yann Samuell
with Guillaume Canet, Marion Cotillard, Laetizia Venezia, Frederic Geerts, Gerard Watkins, Emmanuelle Gronvold, Gilles Lellouche, Elodie Navarre, Thibault Verhaeghe, Josephine Lebas-Joly, Robert Willar, Nathalie Nattier
release France 17.Sep.03, US 30.Apr.04, UK 20.Aug.04 • Canal+ 03/France 1h33


REVIEW BY RICH CLINE

This colourful French film has a gimmicky, inventive style like Amelie, but the comedy has a very nasty edge. It tells the story of a relationship between two people from ages 8 to 80 ... and there are a lot of wrinkles in between.
As kids, Julien and Sophie (Verhaeghe and Lebas-Joly) are drawn together by their irrepressible energy. Being outsiders at school, they're inseparable. And uncontrollable. An imaginative game of dare develops between them that constantly gets them in trouble; and as they grow up, the dares get crueller--Julien and Sophie become much more jaded adults (now played by Canet and Cotillard) and more repressed about their feelings toward each other. Even after both are married (to Venezia and Geerts, respectively), the game continues. And more than one person is going to get hurt.


The cinematic elements are tightly controlled by writer-director Samuell to create a fantastical visual sparkle. Witty and very lively, this is extremely skilful filmmaking, and Samuell isn't afraid to dwell on the extreme dark sides of human interaction, even as he maintains a rom-com tone. But there's nothing funny about what these people do to each other! Canet and Cotillard are extremely good, playing the characters from 18 to 35 as the stakes get higher and higher. Julien and Sophie become addicted to viciousness, and yet there's an oddly romantic subtext we can see between the cracks.
Without this glimpse inside the film would be almost unbearably harsh. Moments of real tenderness help us remember what's actually going on here, letting us see the passion that lies beneath the spitefulness and bringing out the "is love a game?" theme in only slightly too-clever ways. It does turn extremely dark from time to time, digging into the ugly recesses of the male-female divide as it heads for a creepy-funny double-barrelled climax that kind of undermines the film but also leaves us with a smile. And a message to take home: Dare to express your true feelings before it's too late. [15 themes, language, sex, some grisliness] 4.Aug.04

PRINCESA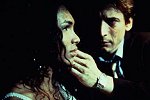 dir Henrique Goldman • scr Ellis Freeman, Henrique Goldman
with Ingrid de Souza, Cesare Bocci, Lulu Pecorari, Biba Lerhue, Mauro Pirovano, Sonia Morgan, Alessandra Acciai, Giovanni Raso, Gartano Zerbo, Roberta Nanni, Donatella Zavalloni, Erica Bracchi
release Italy 1.Jun.01, US 7.Dec.01, UK 1.Oct.04 • 01/Italy 1h36


REVIEW BY RICH CLINE

This true story has an authentic tone that makes it compelling viewing. And with its warm humour and gritty realism, it's like a combination of the two extremes in the prostitute genre: Nights of Cabiria meets Pretty Woman!
Fernanda (de Souza) is an idealistic 19-year-old Brazilian who travels to Italy to earn money for her male-to-female operation. Her friend Charlo (Lerhue) works the streets as a transvestite hooker, and Charlo's madam Karin (Pecorari) instantly spots Fernanda's special talent for the job--because in all but one respect, Fernanda really is a woman. Then Fernanda meets Gianni (Bocci), a man who offers her a solid relationship and help with getting the operation. But is it too good to be true?
The thing that draws us into this story is Fernanda's desire to be a normal woman. She doesn't want to have a career as a prostitute; playing the glamorous hooker "Princesa" is just a means to an end. And while this scenario is hardly new (and hardly ever successful), it makes Fernanda deeply sympathetic, especially as played by de Souza and filmed by Goldman. There's an earthy, almost documentary feel that makes this film profoundly and provocatively authentic. The emotional connections between the characters are organic, difficult and beautifully underplayed by the cast.
There's also a terrific undertone of wit and irony, combined with moments that are startlingly telling--such as when Fernanda dresses in a respectable outfit for a date, and then looks just as artificial as when she's all dolled up. Director-cowriter Goldman isn't afraid to explore the dark sides of his characters; even the hero has moments of thoughtlessness and helpless confusion. And he also realistically explores the sex change process on an emotional, rather than sensational level. Instead of yet another film about either dreamy happy endings or grim tragic certainty, this becomes something completely different: an exploration of happiness and purpose, relationships and interconnections, and accepting the best possible path in life, even if it's not what you had in mind when you started. [18 strong adult themes, language, sex, some nudity] 6.Aug.04

WILD SIDE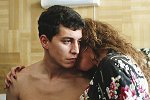 dir Sebastien Lifshitz • scr Stephane Bouquet, Sebastien Lifshitz
with Stephanie Michelini, Yasmine Belmadi, Edouard Nikitine, Josiane Stoleru, Antony Hegarty
release France 14.Apr.04, UK 15.Apr.05, US 24.Jun.05 • Canal+ 04/France 1h33


REVIEW BY RICH CLINE

French filmmaker Lifshitz (Come Undone) joins forces with gifted cinematographer Agnes Godard (Beau Travail) for this ethereal, emotional and almost wordless drama about people living on the fringe, or wild side, of society.
Stephanie (Michelini) works as a transsexual prostitute in Paris but is called home when her mother (Stoleru) falls ill. Suddenly her childhood floods her mind with memories of life as a little boy, back when her father and sister were still living. Her world today is a rather huge contrast: she has the support of her gentle and kind Russian boyfriend Mikhail (Nikitine), an illegal immigrant working menial jobs to pay the bills. And there's a third lover in their tight group, the young French-Arab Djamel (Belmadi), who works as a hustler in train stations.
Yes, it's a rather odd menage-a-trois, but this is not the focus of the film at all. It's about three people (four if you include the mother) who are desperate for affection, seeking love, loyalty and family wherever they can find it. This feeling is expressed by the filmmakers rather than spelled out by an overt storyline. Lifshitz directs in a low-key way that captures the emotions introspectively--like a cinematic poem, it simply accepts these people for who they are, rather than using them as a tent-pole for some sort of plot.


The performances are all raw and natural, and they are filmed in a close-up and often very intimate way. Stephanie's longing for love is performed and captured beautifully on screen; Mikhail's aching homesickness and mopey acceptance of a life he never wanted is very moving; Djamel's chatty optimism is a mask for his deep dissatisfaction. Each person has a palpable gap in their life, a yearning for someone who will rescue them from their past and their present. So in each others' arms they find a touching solace. This is evocative, almost elegiac filmmaking--striking to look at, disturbing and provocative to think about, and slightly frustrating in its refusal to play by cinematic rules of plot structure and character arc. And in a very unconventional way, it's deeply, darkly beautiful. [18 themes, language, sex, nudity] 14.Sep.04