R E V I E W B Y R I C H C L I N E

Reese Witherspoon once again effortlessly carries us through an essentially mediocre film with her sheer energy and charm! She plays Melanie Carmichael, a hot-shot New York designer who's just become engaged to the city's most eligible bachelor (Dempsey), son of the feisty and deeply skeptical mayor (Bergen). But Melanie has a few skeletons in her Alabama closet; not only has she fibbed on her "official" bio, but she's still married to her childhood sweetheart (Lucas). So off she goes, home for the first time in seven years to confront the ghosts of her past, reconnect with her parents (Place and Ward), friends (Embry and Lynskey) and mother-in-law (Smart), and get that divorce finalized. Hilarious antics ensue.

This is one of those undemanding romantic comedies in which everyone is so darned likable that you don't really care which way it goes. Will she chose her incredibly nice and loving (and rich) fiance, or discover that she's still in love with her hunky first crush? It doesn't really matter, so we just get on with the wacky clash between highfalutin Yankee city slickers and the rural, Deep South. It helps to have talented scene-stealers like Bergin, Place and Ward to liven up the weak script, while the sharp young cast is superb. Dempsey oozes sophisticated charm, while Lucas has raw sex appeal and looks startlingly like Matthew McConaughey (before he began turning himself into Vin Diesel); but the lively and hilarious Embry is the real one to watch. Still, this is Witherspoon's show, and she guarantees that the film's thoroughly engaging from start to finish. Nothing deep and meaningful, besides a few nods to sweet romantic themes and the importance of family and embracing your past, warts and all. Yeah, whatever. It's just good fun.
| | | |
| --- | --- | --- |
| | themes, language | 28.Nov.02 |
dir Andy Tennant
scr C Jay Cox
with Reese Witherspoon, Josh Lucas, Patrick Dempsey, Candice Bergen, Ethan Embry, Mary Kay Place, Fred Ward, Jean Smart, Melanie Lynskey, Courtney Gains, Rhona Mitra, Dakota Fanning
release US 27.Sep.02; UK 20.Dec.02
Touchstone
02/US 1h38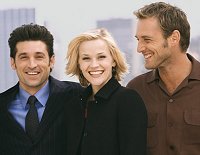 Mason-Dixon Line. Will Melanie choose north or south? Does it matter? (Dempsey, Witherspoon, Lucas)





Laurie T, Minneapolis: "I gotta admit, what most will remember from this movie is the perfect marriage proposal - wow, being taken to a jewelry store and told to pick whichever one you want ... what can you say? In this case, she needed to say, 'Oops, I have to divorce my first husband - be back in a bit.' By then I already knew which guy she would pick. The old saying is, 'You can take the girl out of the country, but not the country out of the girl' - or should I say 'South'? Okay, so this is a predictible love story - small town girl escapes to New York, makes a new life, is making it big as a fashion besigner, just got proposed to by the mayor's son, the city's most eligible bachelor; life is looking perfect. Except she has this past - and that somehow never got finalized, for reasons the movie gradually lets us in on. I have to say I did like this movie, though - it may be predictible, but it has its silly moments, sweet moments and it is fun to watch. And aren't movies supposed to entertain?" (7.Oct.02)

Matthew Bingham, Cambridge, UK:

"In response to the comment 'aren't films supposed to entertain?', as true is this is, if that was their only purpose, wouldn't a Tom Cruise or Mel Gibson film be the best in living memory. Waterworld was entertaining but was a terrible film. Poorly shot, and with a bad script to boot. So to simply be entertaining is not enough. Hence this is a poor film - it may be reasonably well acted, and shot in a predictable yet smooth and average Hollywood style. But has no sparkle or pizazz to set it apart from the humdrum and mundane ploddings of the LA film factory. Still I enjoyed the company (now my partner of 18 months), which was the best part of this film for me. Oh how damning does it get, hey?" (20.Jul.04)