R E V I E W B Y R I C H C L I N E

Eight years after the first film, Tim Allen and the entire cast are back in a sequel that might even be better than the original. It's eight years later in the story, too. Scott (Allen) has settled into the job as Santa but now faces a crisis because of a second stipulation in the contract, The Mrs Clause (a much better title than simply slapping on a 2). He has to be married by Christmas Eve or he'll lose his job. No, it makes no sense at all, and on top of this, his now-teen son (Lloyd) is on the Naughty List for making fun of his stunningly beautiful school principal's (Mitchell) Scrooge-like attitude to the holidays. Yes, you can see exactly where this is going, but there are wrinkles. Scott makes a toy stand-in to keep things running at the North Pole while he sorts out these problems, and the plastic Santa gets delusions of dictatorship, causing havoc for Santa's right-hand elves (Krumholtz and Breslin). Oh, and Scott's ex and her annoying-shrink husband (Crewson and Reinhold) are back as well, complete with a bratty new daughter who suspects something is up with "Uncle Scott."

From the first frame, it's clear director Lembeck and the platoon of writers are going for a holiday classic here; the production is big and lush, warm and sweet with lots of colourful wackiness to keep the kids giggling with delight. For the adults, there's just enough grown-up plotting combined with sharp and surprisingly witty throwaway gags. And there's even a fairly strong teen character for those in between. Yes, it's Christmas fun for the whole family! It's also painfully predictable on most levels, completely unnecessary, and it borrows heavily from the ghosts of holiday classics past. Once the requirements of the plot are set in motion, Allen gets on with what he does best: making fun of everything while never getting mean about it. This allows the romance to actually feel fresh ... and knowingly absurd. And there are hilarious comic bits (the school faculty Christmas party is classic), with astute details and some truly awful effects (the reindeer are appalling; where's the Jim Henson team when we need them?). Basically it's one of those childish movies adults enjoy far more than they expect to. And that very rare Christmas film worth adding to the Nice List.
| | | |
| --- | --- | --- |
| | some innuendo and vulgarity | 27.Oct.02 |
dir Michael Lembeck
scr Leonardo Benvenuti, Ken Daurio, Ed Decter, Cinco Paul, Steve Rudnick, John J Strauss
with Tim Allen, Elizabeth Mitchell, Eric Lloyd, David Krumholtz, Spencer Breslin, Wendy Crewson, Judge Reinhold, Art LaFleur, Michael Dorn, Aisha Tyler, Kevin Pollak, Peter Boyle
release US 1.Nov.02; UK 29.Nov.02
Disney
02/US 1h38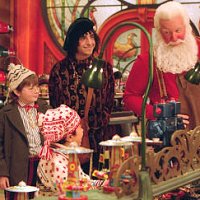 Toy story. Everything's just fine in Santa's factory until he discovers that he didn't read the fine print (Breslin, Krumholtz and Allen).