R E V I E W B Y R I C H C L I N E

OK, it's beginning to seem like any piece of classic literature is fair game to be adapted for an American high school setting. After a string of comedies like Clueless (Emma) and Ten Things I Hate About You (Taming of the Shrew), we now get this seriously dark drama, based on Othello. Odin (Phifer), nickname O, is the star basketball player at a posh Charleston boarding school, where he happens to be the only black student. The coach (Sheen) treats him like a favoured son, which really angers his real son Hugo (Hartnett), who is sidelined on the team. As his jealousy brews, Hugo plots to bring O down a peg or two by spreading rumours that his best friend (Keegan) is having a fling with O's girlfriend Desi (Stiles). To accomplish this, he manipulated a simple-minded rich kid (Henson), as well as Desi's eager-to-please roommate (Phoenix). And as things heat up, Hugo becomes increasingly willing to take things to the next level.

OK, so we all know that Othello ends with a mountain of bodies, so once we realise early on that the filmmakers here are sincere about Shakespeare's plotline, we know it will not end happily. And this is the most remarkable thing about this film: It's willingness to stay rooted in a serious story, fleshing out the characters and looking at awkward teen issues like racism, class snobbery, peer pressure, the way sports has overpowered the education system, and even gun control. This isn't to say the film is a humourless slog; it bristles with real life, passion, comedy, the give and take of teen relationships. In other words, it's such a good adaptation of the story that you almost felt it was written for this environment! The young cast is very good, even if they don't quite have the gravitas to convey the plot's darker elements. The heaviness--and the downbeat ending--mean it won't be a big box office hit (indeed it barely got released at all!). But it's important enough to live on as a cult classic video.
| | | |
| --- | --- | --- |
| | adult themes and situations, violence, language, drugs | 19.Jul.02 |
dir Tim Blake Nelson
scr Brad Kaaya
with Josh Hartnett, Mekhi Phifer, Julia Stiles , Martin Sheen, Andrew Keegan, Rain Phoenix, Elden Henson, John Heard, Rachel Shumate, Christopher Jones, AJ Johnson, Lisa Benavides
release US 31.Aug.01; UK 13.Sep.02
01/US 1h35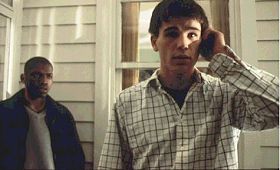 Tangled web. Odin gets caught up in Hugo's complex deceit (Phifer and Hartnett)...