SHADOWS ON THE WALL | AWARDS | REVIEWS | Q&A | ABOUT | TALKBACK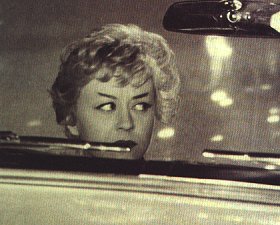 Cabiria (Masina) doesn't trust her luck when she's whisked away by a rich and famous movie star...
Le Notti di Cabiria
dir Federico Fellini
scr Federico Fellini, Ennio Flaiano, Tullio Pinelli
with Giulietta Masina, Francois Perier, Amedeo Nazzari, Franca Marzi, Dorian Gray, Mario Passante, Aldo Silvani, Ennio Girolami, Pina Gualandri, Loretta Capitoli, Christian Tassou, Gianni Baghino
57/Italy

---
Review by Rich Cline

One of the all-time greats is back on the big screen where it belongs--with seven minutes of lost footage restored. Fellini's masterpiece Le Notti di Cabiria is an energetic, deeply moving examination of the need for love and acceptance. And it features quite possibly the greatest performance ever from the greatest actor ever: Giulietta Masina.

She stars as Cabiria, a prostitute in Rome who doesn't let the realities of life interfere with her optimism. From the startling opening scene, she moves through society night by night knowing that eventually she will find what she needs to improve her life. She moves from a glamorous actor (Nazzari) to a lonely charity worker, from religious fervour to hypnosis and magic, from the kind monk who talks about the grace of God to her loyal best friend Wanda (Marzi) ... and eventually to the handsome Oscar (Perier), who sweeps her off her feet. Cabiria is always looking for the silver lining--and when everything seems to be going right, she can hardly believe her luck.

The film works on so many levels that it quickly gets under our skin and stays there. Fellini is on top form; vivid "colours" dance across each black and white frame with a quirky energy that cuts through to the earthy comedy and tragedy of real life. But this isn't just an art film--its universal themes touch a raw nerve. We vividly feel Cabiria's desire to find meaning in life ... to be loved and respected even if it means risking everything. Astounding and essential.

[PG--adult themes] 26.Jul.99
UK reissue 23.Jul.99

Winner: Best Actress Giulietta Masina (Cannes 57); Best Foreign Film (Oscar 58).
~~~~~~~ ~~ ~~~ ~~~~
READER REVIEWS
Still waiting for your comments ... don't be shy.

---
© 1999 by Rich Cline, Shadows on the Wall