R E V I E W B Y R I C H C L I N E

Scorsese's long-delayed epic finally arrives on-screen ... and it was worth the wait. This is a spacious, robust movie that grabs hold of us and doesn't let go for nearly three hours. We begin in 1846 New York City, a kind of Wild West metropolis without any real sense of order, where the cultured citizens of Manhattan live hidden away from the dirty life on the streets around Five Points, which are ruled by a network of street gangs. It's here that two groups of gangs face off against each other--the natives are led by the charismatic Bill Cutter (Day-Lewis) and the immigrants by Priest Vallon (Neeson). At the end of the battle, Vallon is dead and his young son Amsterdam is sent off to prison school. Then 16 years later, the now-grown Amsterdam (DiCaprio) comes back to get revenge by concealing his identity and working his way into Cutter's gang. Along the way he meets old friends (Thomas, Gleeson, Lewis, Reilly) who are now in completely different places. He also falls in love with a local pickpocket-hooker (Diaz).

First of all, the film looks absolutely fantastic, with startlingly believable production design that gives us a remarkable insight into this period in America's history--with the Civil War raging, racial tension at its peak and dissatisfaction with government on all levels. The city was a tinderbox waiting to explode, which is pretty much what happened in the horrific 1863 Civil War Draft Riots that give the film it's jaw-dropping climax. Scorsese films this with his usual sure touch, catching both large and small details and bringing both the characters and the city to life. The script is a bit more problematic; the personal stories are very strong, but the bigger picture is somewhat lost. These issues are very much at the top of the agenda today, and yet a meaningful connection is never made that this is essentially where we are all over again! Still, the narrative is crisp and the characters extremely layered, giving the cast a lot to work with. DiCaprio's meaty and edgy performance holds the story together perfectly; we've never seen him in anything so full-bodied, and he handles it very well indeed. As does Day-Lewis, in an even more complex role as the charming, conflicted and ultimately honorable villain. There's not a weak link among the actors, and everything works together beautifully to grab us and thoroughly jar us on several levels. It's a great story, and if it had been made just a bit more relevant, the film would have been a masterpiece.
| | | |
| --- | --- | --- |
| | adult themes and situations, strong violence, nudity, language | 4.Dec.02 |
dir Martin Scorsese
scr Jay Cocks, Steven Zaillian, Kenneth Lonergan
with Leonardo DiCaprio, Daniel Day-Lewis, Cameron Diaz, Henry Thomas, Jim Broadbent, Brendan Gleeson, Gary Lewis, John C Reilly, Liam Neeson, David Hemmings, Cara Seymour, Roger Ashton-Griffiths
release US 20.Dec.02; UK 10.Jan.03
Miramax
02/US 2h45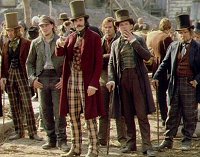 On the streets. Bill Cutter leads his posse into battle (DiCaprio and Day-Lewis are 2nd and 3rd from left)...




22nd SHADOWS AWARDS

READER CHOICE: ACTOR Day-Lewis

"If someone invites you to this repetitive, agonizingly long bore, get a stunt double to go in your stead. You will be missing such snappy dialogue as, 'I don't give a f**k for your moral conundrums you meathead sack of s**t.'" --Richard Cavell, New York City 10.Dec.02

"I don't have to tell anyone by now who is in this or what it is about - but I will say that I liked it. It is well done, and definitely worth seeing - but see it on the big screen." --Laurie T, Minneapolis 21.Jan.03
"An intense, powerful film. Day-Lewis was an amazing presence. No matter how despicable his character, I was drawn to him at all times, and utterly believed he was Bill The Butcher. Not so with Leo. I felt like he was this kid trying to be an actor, trying to 'become' his character, Amsterdam; sometimes succeeding, sometimes not, but fooling a lot of the people most of the time. And then I realized that he was brilliantly cast in Catch Me If You Can, because that was exactly what his character was in that film. I think Leo has the potential to be a fine actor, I think we catch glimpses of it, but I don't think he's there yet. And I wish Scorsese had cast someone else in that role. The film would've been much more believeable for me had he done so." --IndigoJen, Los Angeles 27.Jan.03
"*** Scorsese's long and violent look at early New York as The Irish take on the locals. A weak plot and casting DiCaprio and Diaz to widen box office appeal let down the film. A Scorsese film is always worth seeing but this isn't one of his best. Stick to Italians!" --Gawain McLachlan Filmnet, Melbourne 14.Mar.03