46th London Film Festival: reviews are listed alphabetically
On this page: ROAD MOVIE | SCHOOL TRIP | THIS IS NOT A LOVE SONG | THREE
< < M O R E | M O R E > > Back to the SHADOWS FILM FEST page • FESTIVAL SHORTS • last update 18.Nov.02

ROAD MOVIE
dir Kim In-Sik; scr Gwan Guk-Hee
with Hwang Jung-Min, Jung Chan, Suh Rin, Jeong Hyeong-Gi, Bang Eun-Jin
release UK Nov.02 lff • 02/Korea 1h24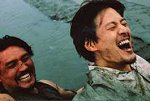 This energetic and visually offbeat Korean movie features a pure love triangle as it traverses the country and examines several social issues. Dae-Shik (Hwang) is a homeless man in Seoul who finds financier Suk-Won (Jung) on the pavement after his business goes under and his wife throws him out in a fit of frustrated rage. Suk-Won is suicidal, but Dae-Shik keeps him alive, and eventually the two hit the road to find work. Along the way, they pick up the chatty prostitute Il-Joo (Suh), and here's where things get a bit sticky. Il-Joo is immediately attracted to the hunky, strong and very kind Dae-Shik, but he in turn is completely in love with the more soulful Suk-Won, who is repulsed by these gay overtures and turns to Il-Joo for the comfort he needs. The road to true love is not an easy one.
At the centre is a very moving story about two men trying to make their relationship work, with a series of very interesting side characters along the way. This solid, involving core helps carry us through the general chaos of the film as a whole--it's very melodramatic, harshly and incoherently edited, and rather obvious in its observations about sexuality, homelessness and prostitution. This awkwardness and lack of subtlety makes the film feel long as it lurches through the story, running quickly with humour and romance then stalling badly with tragedy and violence. Perhaps this jarring approach is all in the name of avant-garde filmmaking, but it alienates us just when we really want to feel for the engaging characters and leaves us with little more than the idea of a touching central storyline and a lot of rather gorgeous imagery along the way. [themes, sex, language, nudity, violence] 14.Nov.02 lff

SCHOOL TRIP
dir Henner Winckler; scr Stefan Kriekhaus, Henner Winckler
with Steven Sperling, Sophie Kempe, Bartek Blaszczyk, Maxi Warwel, Jakob Panzek, Fritz Roth, Piotr Strzelecki, Marian Michalak, Zygmunt Janiak, Renata Maslinska
release UK Nov.02 lff • 02/Germany 1h29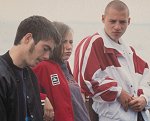 The young German filmmaker Winckler taps into the teen world beautifully in this intriguing and involving film that seems unsure what to do with us once it's got us hooked. It's about a group of German students on a school trip to the seaside in Poland. They're the usual collection of angst-ridden youths; the central character is Ronny (Sperling), a brooding, mysterious type who's ridiculed by his classmates. But Isa (Kempe) notices something about him, and the two become friends. There's an obvious attraction, but of course no one will say anything. Even when Isa starts seeing a hunky local boy (Blaszczyk) who makes Ronny feel small and weedy by comparison. Eventually the story takes a dark twist that forces everyone to open up.
Everything about this film feels real, as it perfectly captures the apathy and listlessness of teenagers on this kind of outing. They go through various routines (sending postcards home, maintaining their school cliques, always looking for alcohol), but besides being away from home they're not terribly thrilled about any of it. The actors are so good that they seem to be playing themselves--raw and natural, going from aimlessness to rowdiness in a heartbeat. And Winckler keeps us right with them all the way; we really get under their skin, involved in the awkward love triangle, the embarrassments of peer pressures, and so on. When the final plot turn falls into place, though, the film seems to come unstuck. After some clever and thoughtful sequences, the ending is more than a little unsatisfying. Realistic, perhaps, but fairly maddening for a moviegoer. [themes, language] 18.Nov.02 lff

THIS IS NOT A LOVE SONG
dir Billie Eltringham; scr Simon Beaufoy
with Michael Colgan, Kenny Glenaan, David Bradley, John Henshaw, Keri Arnold, Chris Middleton, Adam Pepper
release UK 5.Sep.03 • 02/UK 1h32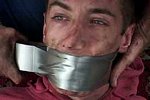 Taking the title from the Public Image Ltd song (irony alert), this offbeat thriller is actually a love story between two men. Heaton and Spike (Glenan and Colgan) are unlikely friends, but Heaton is there when Spike is released from prison. The two then set out on a journey, but before they get very far everything goes tragically wrong and they end up on the run in the Scottish wilderness from a team of very angry farmers led by the evil Filch from the Harry Potter movies (Bradley). As they run, Heaton and Spike struggle to survive ... and with their relationship, which is both fatherly and brotherly at the same time.
Created from a workshop, the film has that improv feel to it--handheld video production values, raw natural performances and slightly contrived plot. Making Spike slightly simple-minded is quite convenient for the story, and Colgan plays the character straight down the line. It's interesting and watchable, but nothing terribly new. Meanwhile, Glenan gives a more nuanced, detailed performance as a man who both loves and is deeply irritated by this young man he's stuck with. When the story isn't going through another improbable "twist", these character portraits keep us interested. We are genuinely interested in what happens to these two men, especially as the filmmakers pile on all kinds of subtext (is this more than fraternal love? why do they argue like an old married couple?) and scene after scene of honest moments between the two. Then the plot kicks in again and leaves us in the cold. It's a strange film--cleverly made in so many ways and yet never quite coming together into a credible whole. [18 themes, language, violence, drugs] 13.Nov.02 lff
NB. This is the world's first simultaneous cinema/internet film release - 6pm on 5.Sep.03.

THREE
dir-scr Kim Ji-Woon, Nonzee Nimibutr, Peter Ho-Sun Chan
with Kim Hye-su, Jung Bo Seok, Suwinit Panjamawat, Komgich Yuttiyong, Leon Lai, Eric Chi Wai Tsang, Eugenia Yuan
release UK Nov.02 lff • 02/Korea-Thailand-HK 2h09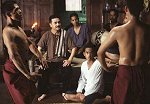 This unsettling Asian triptych features three supernatural examinations of the afterlife from three stylish directors. From Korea comes Memories, a creepy ghost story about a husband (Kim) worrying about what has happened to his wife (Jung), imagining her in various horrific scenarios. Meanwhile we see her wandering around the city with amnesia trying to get home. When she gets there, we get two major twists. Colourful and atmospheric, director Kim keeps us guessing right to the end, then turns the knife one more time, so to speak.
Thailand's entry, The Wheel, is steeped in historic superstition, centred on the jealousies between two sets of performers in a small riverside village. The live-dancers take advantage of the death of the local puppetmaster to move up the artistic chain ... ignoring his warnings that his puppets are cursed. Bad move. Director Numbutr (Nang Nak) uses his lurid, lush style to great effect, drenching the film in water, fire, blood and sweat as these characters struggle with life, love, envy and death.
And finally, the Hong Kong entry is titled Going Home and centres on a cop (Tsang) who moves with his small son into a lowly housing estate. When the son disappears, the cop runs across a strange neighbour (Lai) caring for his dead wife (Yuan), who he's sure is going to revive any day now. This is pure gothic horror--real-life creepiness mixed with supernatural mystery, and a brilliant blending of Eastern mysticism and Western narrative. Christopher Doyle's cinematography is amazing (of course), and the editing is fiendishly clever. Taken all together, these three short films are an excellent Asian-style creepfest. The profoundly foreign storytelling style makes them quite memorable. All three filmmakers seem to indulge themselves just a but, echoing scenes a bit too often (in case we didn't get it the first time perhaps?), but never mind, these are gifted artists whose work deserves to be seen. [themes, violence, nudity, language] 10.Nov.02 lff