Reviews are listed alphabetically.
Festival films that get a general release get their own review pages.
On this page: A GIRL, THREE GUYS AND A GUN | THE SPECIALS | VENGO | WAVES | SHORT FILMS ST LOUIS INTERNATIONAL FILM FESTIVAL
Back to the SHADOWS FILM FEST page • last update 21.Nov.01

A GIRL, THREE GUYS AND A GUN [aka The Solid Ones]
dir-scr Brent Florence
with Brent Florence, Tracy Zahoryin, Christian Leffler, Kenny Luper, Josh Holland, Robin Clark, John Lexing, Tava Smiley, Michael Trucco, Martin Veselich
St Louis Film Fest Nov.01
01/US 1h30


REVIEW BY RICH CLINE
Made on HD video for a shoestring, this little film is remarkably effective due to the way it creates and sustains its characters, even when the storyline gets a bit wobbly. Frank (Florence) is devastated that his girlfriend (Smiley) has taken up with another guy (Trucco), so he and his buddies (Leffler and Luper) decide to get out of their small town. But they'll need money to go to the city. A very botched robbery and kidnapping follow, during which Frank meets Hope (Zahoryin) and begins to make sense of his chaotic life. Yes, the plot is just a bit thin and underdeveloped, but the characters are all quite vivid, written with little quirks and played with sharp attention to detail by the fresh cast. Florence is also a decent director, capturing the setting and orchestrating the action with a breezy comic feel to it, heightening the script's comedy while never underplaying the violent undertones. The production design never betrays the tiny budget; it looks fantastic, with a terrific music score and excellent cinematography. And despite the rather muddled story, it's thoroughly engaging and entertaining. And definitely worth looking for wherever you can find it. Pity about the new, cliched title though, courtesy Roger Corman, who at least will get the film out there. [adult themes and situations, language] 10.Nov.01 sliff

THE SPECIALS
dir Craig Mazin • scr James Gunn
with Rob Lowe, Thomas Haden Church, Jamie Kennedy, Paget Brewster, Kelly Coffield, James Gunn, Judy Greer, Jordan Ladd, Mike Schwartz, Jim Zulevic, Sean Gunn, Barry Del Sherman
release US 22.Sep.00; St Louis Film Fest Nov.01
00/US 1h28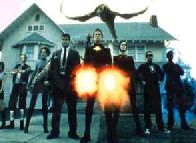 REVIEW BY RICH CLINE
Lost in the shuffle between Mystery Men (another superhero spoof-comedy) and X-Men, this smaller-budget gem is actually the better film. The Specials are "the sixth or seventh best" superhero agency around--losers who can't get any respect. But that's about to change with the launch of their action figures. Sadly, years of neglect have taken a toll on their relationships. The group's leader Strobe (Church) is a pompous jerk whose wife Ms Indestructible (Brewster) is having an affair with The Weevil (Lowe), while Amok (Kennedy) and Deadly Girl (Greer) sow seeds of discontent. And Minuteman (writer James Gunn) falls for the new hero in town, Nightbird (Coffield), who has rather dubious talents. The entire film--dialog, scenes, asides--is jammed with gems of comedy that probably require repeat viewings to catch. It's that dense, throw-everything-at-the-screen style of filmmaking ... but in this case almost everything hits the mark, and it's all done in a gloriously deadpan, dry style. On top of this, the characters are very well written, and played with personality and perfect comic timing by the cast. So we actually start to care about them, against all odds, as they battle their bad reputations and the vicious world of corporate greed. It's directed in a bright, colourful, rather cartoonishly TV style, but it's great to see a superhero comedy that focusses on the characters, not on their special abilities (or special effects). Rather goofy and slight ... but well worth looking for. [themes, language] 14.Nov.01 sliff

VENGO
SHADOWS

MUST-SEE
dir Tony Gatlif; scr Tony Gatlif, David Trueba
with Antonio Canales, Orestes Villasan Rodriguez, Antonio Perez Dechent, Bobote, Juan Luis Corrientes, Fernando Guerrero Rebollo, Francisco Chavero Rios, Jose Ramirez, Juan-Luis Barrios Llorente, Jesus Maria Ventura, El Moro, Maria Faraco
release US 7.Sep.01; St Louis Film Fest Nov.01
00/Spain 1h30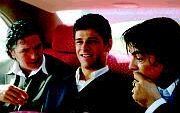 REVIEW BY RICH CLINE
Set amongst the gypsy community in Andalusia, this remarkably visceral film really grabs hold with its sheer energy and vibrancy. At the centre is Caco (Canales), leader of an extended clan, trying to hold his family together amid threats of vengeance from another clan. His daughter has recently died, and he pours his energy and love into his nephew Diego (Rodriguez), who has cerebral palsy, while he tries to stop the escalating cycle of violence that is engulfing the community. Yes, the story sounds fairly simple, but director-cowriter Gatlif (Gadjo Dilo) fills the story with colorful characters and, most of all, the gutsy flamenco music that flows straight from their souls. It's powerful filmmaking, capturing such an earthy resonance that we can't help but feel the impending sense of frustration and powerlessness in the face of such deep-seated resentment ... and yet, there's also hope and beauty in the musical art these people can't help but create--flamenco puro! The performances and camera work are all so natural that we feel we're watching a deeply personal (and invasive) documentary, with the music and good humour, bright sunlight and whitewashed walls camouflaging the increasing tragedy of bitterness taking hold inside these people. Remarkable filmmaking. [themes, violence] 9.Nov.01 sliff

WAVES
dir Mani Rathnam • scr Mani Rathnam, R Selvaraj
with Madhavan, Shalini, Jayasudha, Aravinda Samy, Swarnamalya, Kushboo, V Natarajan, Sukumari, Vivek
St Louis Film Fest Nov.01
01/India 2h36

REVIEW BY RICH CLINE
With all the vibrancy of a Bollywood epic, this essentially simple romance is so well told that we can't help but get sucked in. Karthik (Madhaven) is the man from a wealthy family who falls for Sakthi (Shalini), the younger daughter of a poor workman. This class gap is hard enough to cross without other issues, so they decide to marry in secret, but this leads to deception and serious difficulties. We see the story in flashback, as much later Karthik is searching the streets for his missing wife, discovering just how much he loves her. The film has absolutely everything to it, from exuberant and colourful musical numbers to profoundly intense drama. And along the way, the filmmakers and actors insert countless details to draw us in, making the characters fully formed and still likeable, even when they do stupid things. It's simply jammed full of earthy humour, the life and culture of India, and that goofy Bollywood style that makes us laugh even as it captures our hearts. It is also a rare romance that dares to deal with the difficulties of marriage--going beyond the happy ever after to the struggles of adjustment and expectations. Yes, it does get just a bit melodramatic and preachy near the end, but it is so well-played that it never gets any less involving. [themes, violence] 11.Nov.01 sliff

SHORT FILMS
from the 10th St Louis International Film Festival
REVIEWS BY RICH CLINE
AMERICA'S FAVORITE PASTIME (Tom McDonough US/12m) • Cute rom-com with a bit of intrigue as a New York businesswoman comes home to Middle America, where her dad is selling the family baseball team to a city slicker. The rekindled romance with her school sweetheart is a bit overly tidy, but it's all very sweet! Producer and writer Bobbie Lautenschlager is a St Louis film fest organiser.


CONUNDRUM RHYTHM (Dan Calicotte US/7m) • Hypnotic, Lynch-like sequence of images and sounds examining the repetitiveness of life, boredom, looking for change. Lovely to look at, but it feels like it goes on forever.


ME AND THE BIG GUY (Matt Nix US/5m) • Includes its own short, A Trip to the Movies, which brilliantly parodies those '50s informational films. Then onto the "main" feature, an hilarious Orwell spoof about a man who so annoys Big Brother that he speaks back. Very funny and clever, with a stunning twist in the tale.


THE RIDE HOME (Sam Hoffman US/12m) • Time-slipping story of a woman's life, as seen through her eyes (until the explanatory finale, which is a twist on what we think we're seeing, Alzheimer's style). Rather perplexing and jumpy, but still gripping ... until the sticky-sweet ending.


SUMMONING (Jacob Estes US/30m) • Rather maudlin urban drama about a girl whose mother has died, trying to bring her back to life while her father suffers too. Some intriguing imagery and a nice examination of grief overall, but too heavy handed.


ULTRAVIOLET (Paul Budnitz US/14m) • Whizzy and stylish urban thriller about a guy who might be hitman who falls helplessly, and dangerously, in love. Evocative and clever, the visual imagery implies a sci-fi subtext is at work.