R E V I E W B Y R I C H C L I N E

Due to its frank and honest approach to the events of 11 September 2001, this film will probably never be shown in the United States, which is a real shame, because it has a lot to say! French producer Alain Brigand chose 11 top filmmakers and gave them complete freedom of expression. Each short is exactly 11 minutes, 9 seconds and 1 frame long, and they vary widely from intimate drama to unsettling experimentalism. In order of appearance...

Iran's Makhmalbaf (Blackboards) shows us Afghan refugee children instructed by their teacher on the events in New York, which they can't even begin to comprehend. Earthy, muddy and wonderfully moving--especially when the children try to understand: "God doesn't destroy humans" ... "He doesn't have airplanes!" France's Lelouch (And Now Ladies and Gentlemen) gives us a small drama set in New York, where a French couple (a deaf woman and her boyfriend) are struggling with their relationship when he leaves to take a deaf tour group to the World Trace Center. With her own world falling apart, she's not watching the images on the television in the next room. Very moving. From Egypt, Chahine (Destiny) directs a surreal segment involving a filmmaker's surreal encounter with the ghost of an American soldier killed in a Beirut suicide bomb. Awkward and strange, the lessons about the impossibility of redemption and forgiveness are laid on a bit thickly.

Bosnian Tanovic (No Man's Land) shows his home country in chaos--people wounded and grieving, unable to go home, women preparing to demonstrate against the loss of the town's male population when they get the news from New York and their march takes on a new meaning. From West Africa, Ouedraogo (Kini & Adams) gives us a Whistle Down the Wind-like story of a group of teens who think they've spotted Bin Laden on the streets of Ouagadougo. Desperate for money, the $25 million reward seems too good to be true. This comic adventure brilliantly combines world events with the local economic crisis. In perhaps the strongest segment, Britain's Loach (Sweet Sixteen) lets a Chilean refugee (Vega) narrate a tale of another September 11th, when a US-led coup bombed Santiago. Some 30,000 people, including the elected president Allende, were killed. And the newly installed Pinochet plunged the country into years of torture, murder and violence. Yes, it's shocking and horrible, and it just lets the facts speak for themselves ... with Vega's emotional response.

Mexican filmmaker Inarritu (Amores Perros) takes an experimental approach, leaving the screen completely blank except for brief glimpses of the worst footage--people jumping from the towers. The soundtrack features a blend of music, voices and news reports, all of which seems pretentious at first but then grabs hold emotionally and almost overwhelmingly in the end. Amazing. In what looks like a single take, Israeli director Gitai (Eden) shows us the aftermath of a car bombing in Tel Aviv, but as the film crew cover the event they're told their footage won't go out because something has happened in New York. Kinetic, gripping and bristling with chaos and frustration.

India's Mira Nair (Monsoon Wedding) tells a true story about a Pakistani family in New York looking for their missing son. Since he was a Muslim, and nowhere near the towers when the attacks happened, everyone assumes he was a terrorist. But his family quietly keeps searching, and the finale is powerfully moving. A stunning story! Sean Penn writes and directs the American entry, an intimate portrait of an old man (Borgnine), lonely after his wife's death, whose careful routine is strangely interrupted one morning. Finally, Imamura (Warm Water Under a Red Bridge) gives us a surreal story of a WWII veteran in Japan who thinks he's a snake. His family can't figure him out and are repelled by his actions (he literally bites the hand that feeds him!). It's filmed beautifully, but the allegorical meaning is a bit intense: "There's no such thing as a holy war."

It'll probably be a long time before the political situation in the USA calms down to the point of rationalism and this film can be seen and discussed there. But like Phillip Noyce's feature The Quiet American, this film needs to be digested and understood for what it is: not an attack on America, but rather an attempt to begin to understand what happened on 11 September and why. It also vividly confirms the true power of cinema ... and why the world so badly needs artists.
| | | |
| --- | --- | --- |
| | very strong themes | 24.Oct.02 |
IRAN: dir-scr Samira Makhmalbaf; with Maryam Karimi
FRANCE: dir Claude Lelouch; scr Claude Lelouch, Pierre Uytterhoeven; with Emmanuelle Laborit, Jerome Horry
EGYPT: dir-scr Youssef Chahine; with Nour El-Sherif, Ahmed Seif Eldine
BOSNIA-HERZEGOVINA: dir-scr Danis Tanovic; with Dzana Pinjo, Aleksandar Seksan, Tatjana Sojic
BURKINA FASO: dir-scr Idrissa Ouedraogo; with Lionel Zizreel Guire, Rene Aime Bassinga, Lionel Gael Folikoue, Rodrigue Andre Idani, Alex Martial Traore
UK: dir Ken Loach; scr Paul Laverty, Vladimir Vega; with Vladimir Vega, Salvador Allende, George W Bush, Henry Kissinger, Augusto Pinochet
MEXICO: dir-scr Alejandro Gonzalez Inarritu
ISRAEL: dir Amos Gitai; scr Amos Gitai, Marie-Jose Sanselme; with Keren Mor, Liron Levo, Tomer Russo
INDIA: dir Mira Nair; scr Sabrina Dhawan; with Tanvi Azmi, Kapil Bawa, Taleb Adlah
USA: dir-scr Sean Penn; with Ernest Borgnine
JAPAN: dir Shohei Imamura; scr Daisuke Tengan; with Tomoro Taguchi, Kumiko Aso, Akira Emoto, Mitsuko Baisho, Tetsuro Tamba, Ken Ogata
release UK 27.Dec.02
Studio Canal
02/France 2h15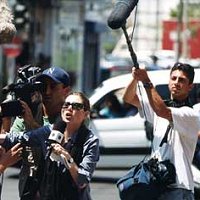 Bombing in Tel Aviv. An Israeli TV crew jostles for position...
To evoke the sheer scale of the shock wave which followed September 11.
To testify to the resonance of the event throughout the world.
To better convey the human dimension of this tragedy.
To bring reflection to emotion.
To give a voice to all.
A collective film.
11 directors from different countries and cultures.
11 visions of the tragic events which occurred in New York City on September 11, 2001.
11 points of view engaging their individual conscience.
Complete freedom of expression.

"If there's any film that you should go out of your way, even way out of your way, to see in these complicated times, it's this one. If I could I would make it obligatory viewing for the whole world. The 11 shorts from 11 parts of the world offer one of the most comprehensive and representative summaries of worldwide opinion--and of politics condensed into personal stories--that I have encountered anywhere thus far. This film will force you to ask yourself the questions you never wanted to ask about the state of the world today, help you to explore the questions you wanted to ask, and help you find balancing view points to your own. I am not currently living in the US but have heard that this film is being widely condemned there as anti-American. I don't think this is true at all. Even without looking at such an assertion from the viewpoint that America was built, in principal anyway, upon discourse rather than conformism, this is a hard claim to support, overall. My favorite example of fairness to all sides was the Egyptian film which comes down quite hard on the suicide bombers and others who have caused fatalities on 'our' side, contrary to what you might expect." --Mag Win, Vermont 28.Feb.03

"I can understand why there were only a half dozen people in the audience on a balmy Friday night, nearly 18 months after the events took place, to watch a movie which was bound to bring back the memories of all the pain of that day (not that it's very far from our minds, now the West is daily submitting us to the 'war against terror'). What a powerful way to express all these mixed emotions though: 11 films, 11 countries and 11 artists expressing in no ambiguous terms what it felt like for them, what the incredible events meant to them. It is no doubt one of the most artistic movies I have seen in a long time. It is rare to see directors expressing themselves quite so freely and even rarer to be able to compare their interpretation. In any case the movie will trigger feelings from anyone watching it. Each individual might recognise their own feelings in some of the pieces, others will strongly disagree with the slant it puts on the subject. But it cannot leave us indifferent. And it cannot be forgotten. Images powerfully come back to mind helping us forge our resolve to view things in balanced way. It is a must for anyone wanting to challenge their feelings about what's going on right now. It is educational in bringing some radically unexpected parallels. But above all it is deeply moving and powerful." --Muriel Russell, Leicester UK 6.Apr.03