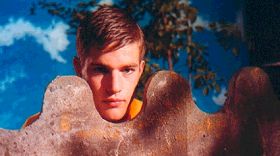 Campfire
Short Films by Bavo Defurne

In April 2002, Belgian filmmaker Bavo Defurne brought six of his short films to London for Dreaming of Boys, a retrospective at the BFI's 16th London Lesbian & Gay Film Festival. At the same time, the British Film Institute's released Campfire, a DVD featuring his last four shorts. This collection was reissued in 2017 by Peccadillo, who also released Defurne's first feature, North Sea Texas (2011). This is Shadows' original 2002 review of Campfire...

See also: SHADOWS' EXCLUSIVE INTERVIEW with BAVO DEFURNE

R E V I E W S B Y R I C H C L I N E
With heavy nods to Pierre et Gilles, Jean Cocteau and Nazi sports propaganda films, Bavo DeFurne uses startlingly powerful imagery to probe personal thoughts and feelings, often without a word of dialog. Sumptuous cinematography and clever editing make his shorts gorgeous to look at, and they get under the skin with their introspective, emotional tone--aching glances, moments of weighty solitude, dreamy landscapes and surprising earthiness. Some images repeat from film to film--clouds, stars, water and swimming, biting off bottlecaps, military motifs and most notably smooth and muscled young boys. But the overall effect is always internal, acknowledging the deep longing we feel for companionship and love, acceptance and belonging. This transcends the gay themes to make these shorts evocative and surprisingly moving. And it bodes well for his next project, a full-length feature.


---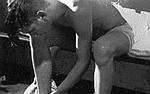 PARTICULARLY NOW, IN SPRING
dir-scr Bavo DeFurne • with Olaf, Bart, Ignace, Sven, Tom, Adriaan, Johan, Werner, Alexander • 95/Bel 8m


Black and white photography evokes a strong Riefenstahl mood as we watch a group of young men on a day of sporting activity, while one young man narrates the day (in English), talking about his goal to become a big-time actor ... and his enjoyment of the camaraderie between physically active teen boys. His innocent desire is palpable but wonderfully understated.


---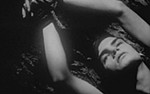 SAINT
dir-scr Bavo Defurne • with Olaf Nollen, Alex van Stratum, Moenen Erbner, Emile Ringoot, Dirk Delcourt, Stijn Wuyts, Robrecht DeRoock, Christoph Dierickx • 96/Bel 11m


This black and white silent tells of the trial and execution of St Sebastian (Nollen), known as the patron saint of homosexuals. Stunning imagery combines with a simple story to build real suspense--and an uncanny level of eroticism--as Sebastien is led through the woods, tied to a tree and then targeted by the Roman army's archers. Clever and perhaps a bit too jumbled and subtle.


---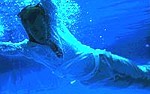 SAILOR [Matroos]
dir-scr Bavo DeFurne • with Joram Schurmans, Tom de With, Tim Peters, Hilde Wils, Jason Nardone • 98/Bel 17m


Heavy shades of Pierre et Gilles and Cocteau nearly overwhelm this touching tale of a teenager (Schurmans) who dreams about a sailor (de With), imagining his adventures around the world. The vividly colourful images are surreal and magical (and rather distracting), while the actors convey fairly profound emotion without ever saying a word.



---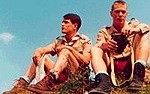 CAMPFIRE [Kampvuur]
dir-scr Bavo Defurne • with Joram Schurmans, Koen Van Heule, Circe Lethem, Maarten Verbeuren • 00/Bel 21m


Telling a full story in the space of merely 20 minutes, this narrative short film follows a scout camping trip during which a teen boy (Schurmans) has a crisis of confidence, abandoning his girlfriend (Lethem) for a brief fling with his best mate (Van Heule). There's an almost painful sense of longing here, as this young man tries to figure out what's going on inside of him--yet the real problem is that he knows full well and doesn't want to act on it. Beautifully filmed with an almost hyper-real sense of nature and teen sexual yearning.
| | | |
| --- | --- | --- |
| themes, artful violence, very brief nudity | | 7.Apr.02 llgff |