R E V I E W B Y R I C H C L I N E
Why has it taken so long for this excellent musical to reach the big screen? Written in 1976 by Fred Ebb, John Kander and Bob Fosse (Cabaret), it took the recent West End/Broadway revival to bring it back into the public eye. And the result is one of the most entertaining movie musical in years. The story centres on Roxie Hart (Zellweger), a very modern 1920s woman with a deeply dull husband (Reilly) and a bit on the side (West) who ends up dead. Charged with murder, Roxie goes to jail where she meets her idol, the vaudeville singer Velma Kelly (Jones). And both them are taken under the wing of the prison matron (Latifah) and represented by grandstanding lawyer Billy Flynn (Gere), who has never lost a case and knows how to wrap the media around his little finger.

Besides being an energetic show full of fantastic songs, the story plays seriously with themes of fame and identity, celebrity trials and media sensationalism. Cleverly, director Marshall blends the stage version's vaudeville structure with a more cinematic style, pushing the action onto the streets of (an admittedly stylised) Chicago and letting the stage numbers blast their way in as pure stage performances. It works brilliantly, drawing us into the story and integrating the music perfectly while never sacrificing the raw, sexy tone.

Zellweger and Gere shine in the leads--musically, dramatically and comically--creating real characters that are deeply shady. But Jones steals the whole thing with a gutsy, powerhouse turn as the strong but vulnerable Velma. Supporting characters are excellent as well, played with sharp detail by the terrific cast. Two technical complaints: Marshall's direction and editing seem a bit impatient, refusing to show performances in long takes so we can soak them in, cutting to often to close-ups and losing the flow of the musical numbers. And while the film looks fantastic on every level, it also seems low-budget with a somewhat limited design. The sets are a bit too small and sparse to carry off the bigger songs, no matter how busy the production design seems to be. But those are minor quibbles for an otherwise magical piece of musical cinema with unforgettable songs and characters. And something to say as well.
| | | |
| --- | --- | --- |
| | adult themes and situations, violence, language | 8.Dec.02 |
dir Rob Marshall
scr Bill Condon
with Renee Zellweger, Catherine Zeta Jones, Richard Gere, John C Reilly, Queen Latifah, Taye Diggs, Christine Baranski, Lucy Liu, Dominic West, Colm Feore, Mya Harrison, Chita Rivera
release UK/US 26.Dec.02
Miramax
02/US 1h47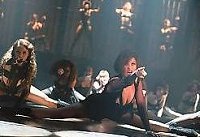 Razzle-dazzle. Velma (Jones) gets to grips with that tricky Fosse choreography ... and all that jazz.







"Having seen Chicago with the original Broadway cast in the '70s, and again in its revival a couple years ago, I eagerly awaiting the movie version ... and I wasn't disappointed! The film remains true to the dark comedy of the play, and builds on it with the cuts between fantasy and reality. Zeta-Jones is a powerhouse as Velma, and Gere is slick and likeable as corrupt Billy Flynn, but contrary to the press, I thought Zellweger is the standout as the little waif that could. The story is ageless, winking at the corruption of law, particulary in terms of celebrities, and even creating celebrity, only to be overshadowed by the new flavor of the month. It was a special treat seeing Chita Rivera (the original Velma) in a brief cameo. The entire audience was involved, bursting into applause after every musical number. Great entertainment!" --Indigo Jen, Los Angeles 31.Dec.02

"A musical with lots of dancing and a silly plot. Okay, that about sums it up, but what else can I say? I figure by now everyone knows Zeta-Jones is awesome, Zellweger also, and I loved the tap dancing of Richard Gere. Very entertaining, and really the best I have seen in a while. Go see it on the big screen to get the full effect!" --Laurie T, Minneapolis 6.Feb.03

"**1/2 Screen adaption of the musical stars Zellweger, Zeta Jones and Gere, and the entertaining numerous Song & Dance scenes stretch out the thin plot. Bring back Al Capone to liven it up!" --Gawain McLachlan Filmnet, Melbourne 14.Mar.03
"If you watch this movie you won't be disapointed. I originally didn't want to watch this movie, but took my boyfriend to watch it because he begged me to. Ironically it turned out to be one of the best films I've seen all year. Even if you don't like musicals, you will LOVE this movie." --Leanne, England 4.Apr.03