R E V I E W B Y R I C H C L I N E

While the whole Director's Cut thing can be rather worrying, as filmmakers tamper with history! But it also gives them a chance to restore something changed for what might have been good a reason at the time, but is no longer relevant. More importantly, it lets them clean up the print, sharpen the sound and get their work back on the big screen where it belongs. I hadn't seen Amadeus since its original release in 1984, and it hasn't lost an ounce of its power. Besides a subplot featuring Kenneth McMillan, I couldn't really tell which 20 minutes were previously unseen. And seeing it again now, it lacks the gut-punch of that first viewing, but it's still a masterpiece.

This is one of those timeless classics that works on so many layers it's hard to take in, due to Shaffer's remarkable script (based on his play) and Forman's astute direction. Both bring a blast of fresh air into this fictionalised biopic, keeping things funny, edgy and human even as they grapple with weighty themes of artistic creation, resentment and faith. It's the story of Antonio Salieri (Abraham) and his bitter jealousy of Wolfgang Amadeus Mozart (Hulce) in 18th century Vienna. Salieri considered himself a genius until he was confronted by Mozart's far surpassing gifts. He blames God for the slight. And takes it out on Mozart.

The story is utterly devastating, but it is lifted and made accessible by the combination of cinematic ingenuity and astonishingly real performances. Abraham's smoothly insidious Salieri is such a contrast to Hulce's fun-loving lost-boy Mozart that they almost seem to be in different films. Which is of course the point. Both actors are spot on, but in an unconventional, surprising way that catches us off guard. Meanwhile, we're immersed in the place and time by drop-dead gorgeous production design that's authentically rough around the edges--big and lushly detailed, but never pretty or fussy. But the real star of the film is the music, performed beautifully and edited into the narrative with such artistry that it takes our breath away on more than one occasion. We experience the music as the characters write it--full of meaning and impact.
| | | |
| --- | --- | --- |
| | themes, language, innuendo | 11.Jun.02 |
dir Milos Forman
scr Peter Shaffer
with F Murray Abraham, Tom Hulce, Elizabeth Berridge, Jeffrey Jones, Simon Callow, Roy Dotrice, Cynthia Nixon, Christine Ebersole, Kenneth McMillan, Vincent Schiavelli, Charles Kay, Kenny Baker
reissue US 5.Apr.02; UK 26.Jul.02
Warners
84-02/US 2h58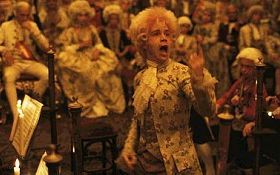 The Man. The Music. The Madness. The Murder. Wolfie directs his latest opera for the emperor in Vienna...

A C A D E M Y A W A R D S 1 9 8 5

8 OSCARS:
Picture Saul Zaentz
Director Milos Forman
Actor F Murray Abraham
Adapted Screenplay Peter Shaffer
Art/Set Decoration Patrizia von Brandenstein, Karel Cerny
Costume Design Theodor Pistek
Makeup Paul LeBlanc, Dick Smith
Sound Berger, Boekelheide, Newman, Scott
OTHER NOMINATIONS:
Actor Tom Hulce
Cinematography Miroslav Ondricek
Editing Nena Danevic, Michael Chandler