A Tale of Two Festivals


Shadows Film Festival Report 2000
Notes from the 44th London Film Festival (1-16 Nov)
and the 9th St Louis International Film Festival (2-12 Nov)
Return to SHADOWS @ FILM FESTIVALS
by Rich Cline • 19 November 2000
Overdose. Press screenings for the London festival started 16 Oct; Rich was in St Louis 1-13 Nov and made it back to London for the final three days of the LFF.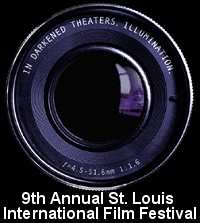 Two festivals converged in the middle of the autumn, and I tried to have my cake and eat it too, watching (and reviewing) some 60 features in six weeks. A heavy load even by my own gluttonous standards. And it was a special trick this year since the festivals took place over the same dates (no problem, thanks to the wonder of advance press screenings in London).

The 44th London Film Festival (Nov 1-16) kicked off with the international premiere of Cameron Crowe's ALMOST FAMOUS, and then continued with its usual mix of indie gems, big Hollywood stuff, offbeat world cinema and experimental films. Highlights among biggies included Ang Lee's breathtaking action-romance-drama CROUCHING TIGER, HIDDEN DRAGON, Rob Sitch's terrific Aussie comedy THE DISH, Greg Berlanti's charming THE BROKEN HEARTS CLUB, Jonathan Glazer's surprising British crime comedy SEXY BEAST, Christopher Guests' hilarious BEST IN SHOW, Rod Lurie's cracking political drama THE CONTENDER, Darren Aronofsky's harrowing drug drama REQUIEM FOR A DREAM, and the closing night film, David Kane's breezy London rom-com BORN ROMANTIC, which has one of the best British casts of the year.

Disappointments would have to be Kevin Spacey in THE BIG KAHUNA (nothing more than a three-man play on screen), Gwyneth Paltrow et al in DUETS (a lackluster road comedy), and Joel Schumacher's underwhelming (I'm being kind) FLAWLESS. Moving right along...

The 9th St Louis International Film Festival (Nov 2-12) emphasizes independent films, including some high profile ones (David Mamet's hilarious STATE AND MAIN and Elias Merhige's creepy and funny SHADOW OF THE VAMPIRE--two films about filmmaking with superior big-name casts ... and both were at the London fest as well) alongside little known things from all over the world.

The main strand of the festival is the New Filmmakers Forum, which invites five first-time directors to present their work. For the second year, I was privileged to be on the jury, and we struggled to choose a winner between the finalists. In the end, Ramin Serry's MARYAM took the prize. It's an astonishing, sure-handed tale of an Iranian teenager in America during the 1979 Teheran hostage crisis. Runners up--and filmmakers to watch--were Scott Smith (stunning teen drama ROLLERCOASTER), Mari Kornhauser (creepy agoraphobia thriller HOUSEBOUND), Clay Eide (clever North Dakota noir DEAD DOGS) and Stephen Reynolds (quirky family drama THE DIVINE RYANS).

Other festival highlights included Bob Giraldi's twisty restaurant comedy DINNER RUSH (which won the Audience Award), David Schisgall's "group sex" documentary THE LIFESTYLE (so popular an extra screening was added), Del Shores' ribald--and surprisingly touching--comedy SORDID LIVES, Maggie Greenwald's period drama SONGCATCHER and the fantastic documentary LONG NIGHT'S JOURNEY INTO DAY, by Frances Reid and Deborah Hoffman, about reconciliation in South Africa after Apartheid. And of course, St Louis lived up to its hospitable reputation, providing parties and after-hours activities (late-night bowling anyone?) for the filmmakers, jury members, distributors and other guests. By the end it was like summer camp had ended; we all hugged and reluctantly went home.

NOTE: Reviews of these films may still be online here, accessible through the Shadows Film Fest page. Otherwise, just ask for an archive copy of a review by email.

See also Rich's more extensive report on SLIFF 2000 for indieWire.
See also Rich's reports on LFF 1999 and SLIFF 1999.
---
© 2000 by Rich Cline, Shadows on the Wall