dir-prd Stephen Silha, Eric Slade
with James Broughton, Joel Singer, Suzanna Hart, Orion Broughton, Armistead Maupin, Anna Halprin, Jack Foley, Lawrence Ferlinghetti, Neeli Cherkovski, Kevin Killian, Alex Gildzen, Edward Field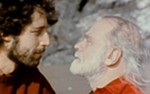 release UK Mar.14 flare,
US Jul.14
14/US 1h22

---


Of course a documentary about the iconic poet and filmmaker James Broughton would itself be a work of art, playing with the form to explore a man whose relentlessly celebrated the wonder of love, nature and life. In his 23 books and 23 films, this "devotee of joy" encouraged everyone to find happiness by letting go of whatever stopped them.

Born in Central California in 1913, Broughton was a beat poet and experimental filmmaker in 1940s San Francisco, whimsically playing with words and images. He won a special award at Cannes from his hero Jean Cocteau for The Pleasure Garden (1953) and hit counterculture success with The Bed (1968). His partners included iconic critic Pauline Kael, with whom he had a child, and his wife Suzanna Hart, with whom he had two more. But the love of his life was film student Joel Singer, 35 years his junior, who lived and worked with him until his death in 1999.

Filmmakers Silha and Slade beautifully capture Broughton's outsider sensibilities, using playful editing and animation along with extensive film clips, archive footage and interviews with Broughton's friends, family and colleagues. There are also plenty of clips of Broughton in interviews, as well as readings from his poetry and journals, all of which highlight the effervescent energy of his work.

It's intriguing that pop culture history remembers his cohorts like Allen Ginsburg and Jack Kerouac far more vividly. Perhaps this is because Broughton operated outside acceptability, pushing people to find happiness in a world full of horror. His poems and films often feel silly, but serious themes creep in, reflecting his sometimes crippling self-doubt. But he rejected offers to make movies in Hollywood, preferring to break taboos to realise his vision of a world where loving and comradeship are the order of the day.

It's great to see Broughton documented in such a playful style, as the film itself encourages us to experience the kind of joy that can rescue the world from stupidity. Broughton believed that we should never do what everyone else does - "make your own kind of mess!" He was also open to unexpected love, recognising that nobody knows what will happen even though they pretend they do; we're gurgles in a stream with no idea where we're going. So make the most of it.
dir Askold Kurov, Pavel Loparev
with Elena Klimova, Pasha, Zhenya, Natasha, Marina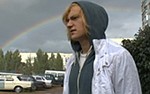 release UK Jun.14 ocdf
14/Russia 1h14

---
OPEN CITY DOCS FEST

Assured and focussed, this bold documentary explores the experience of Russian LGBT teens from a perspective that's not only enlightening but also deeply resonant. It's a vivid observation of exactly what institutionalised bigotry can do to a young life.

In 2013 Russia's government passed a law banning propaganda of "non-traditional sexual relations" to minors, which essentially means that LGBT young people can only be told that they are sick, abnormal and sinful. In response, a group of teens led by activist Elena Klimova created the social networking group Children-404, named after the internet error for "page not found", because they feel that they are officially invisible in their own society. But they're certainly not an error. Within the first year, 22,000 young people joined, while Klimova was charged (and later acquitted) of propaganda.

For the film, 45 group members speak anonymously, with their faces and/or voices obscured as they tell their stories and express feelings about being erased from existence. The film also spends time with Klimova and her girlfriend Zhenya, a fellow journalist who also lost her job when her sexuality was made public. There's also Natasha, who runs a halfway house for gay teens running for their lives.

Most engaging is Pasha, a 19-year-old who is planning to emigrate to Canada. He's a strikingly brave young man, frustrated that he's being forced to give up his home, worried about what his government will do to him if he stays. But anything is better than living in constant fear. And he craves a normal life with someone to love and a family of his own. Like all of these kids, he also craves understanding and respect.

The film is packed with stories of ruthless bullying from students and adults, including public humiliation and physical violence (the teens lie to their parents about the cuts and bruises). "People like you should be burned," they are told openly. Many are suddenly cut off from friends whose parents blame them for their child's sexuality. And they are informed that they must accept this homophobic abuse because they deserve to be hated. It's no surprise that so many turn to drug use and suicide as they find it impossible to accept who they are.

The film is such a deeply personal cry of the soul that it reveals important truths about both sexuality and bigotry far beyond Russia's borders. It also vividly catches the global wave of attitudes on the issue. Their government may be legislating prejudice and inequality, but Russian schools still teach tolerance and diversity. "History proves that things do change for the better," Klimova observes. "Someday we'll talk about the Putin years as the Stone Age."
dir-prd Jonah Bekhor, Zach Math
with Sigurdur Hjartarson, Pall Arason, Tom Mitchell, Reynir Hjartarson, Jona Sigurdardottir, Terry Gunnel, Mitchell B Morris, Petur Petursson, Marci Bowers, Petur Halldoresson, Paula-Jo Husack, Ari Karlsson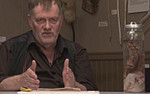 release US 18.Apr.14,
UK 17.Jun.14
12/Canada 1h15


For a documentary about the world's only penis museum, this light-handed film has a series of surprising messages about human life and culture. It's also told with a dry sense of humour to bring out the personalities of the people involved in what turns out to be a rather dramatic story.

The Icelandic Phallological Museum is in Husavik, just 30 miles from the Arctic Circle. Sigurdur "Siggi" Hjartarson started his collection as a joke, and his wife Jona talked him into creating the museum in 1997 to get it out of the house. After 40 years, Siggi's collection is a top tourist destination in northern Iceland, and he has specimens from every mammal except one: a human. So two men are competing to be the first: self-described Icelandic womaniser Pall and Californian cowboy Tom, whose first wife named his member Elmo.

The filmmakers deadpan sense of humour makes all of this hugely engaging. And we're treated to a tour of Siggi's museum, which has a gift shop filled with hilarious hand-carved memorabilia. There's also the local folk tale about the legal length of a penis, an appallingly botched attempt to get a plaster cast from Pall, and Tom's dream to make Elmo famous by getting an American flag tattoo and planning an Adventures of Elmo comic book. Meanwhile, the amusing raconteur Pall is already famous in Iceland as an explorer and womaniser.

All of this is eerily informative about the relationship between men and their genitalia. But there's an added layer in here about how Siggi's work is addressing something most people are afraid to talk about. Not to mention the scientific information (sperm whales have the largest, hamsters have the smallest), and the fact that Siggi is involved in a variety of biological and historical campaigns.

But what makes the film compelling is Siggi's deep longing to complete is collection before he dies. Pall is 96 and going strong, and Tom's plan to donate Elmo before he dies begins to come undone. But Siggi's most important work is to change public attitudes about a taboo subject. And when all of this is mixed together into a documentary, it has some surprising things to sat about both ageing and the legacies we leave behind.
18 themes, language, grisliness, nudity
---
17.Jun.14

R E V I E W B Y R I C H C L I N E
I Am Divine


dir Jeffrey Schwarz
prd Jon Glover, Lotti Pharriss Knowles, Lance Robertson, Jeffrey Schwarz
with Divine, John Waters, Ricki Lake, Mink Stole, Tab Hunter, Holly Woodlawn, Frances Milstead, Greg Gorman, Diana Evans, Robert W Richards, Lisa Jane Persky, Bruce Vilanch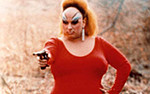 release US Mar.13 sxsw,
UK 18.Jul.14
13/US 1h25

---


This wonderfully involving documentary traces the life of an important artist who crushed barriers and indelibly changed cinema, music and stage. But it took decades for him to find acceptance in the mainstream. And his early death left the world with a lot less sparkle.

Glenn Milstead was born in Baltimore and renamed "Divine" by his teen pal filmmaker John Waters for the 1966 short Roman Candles. Divine had always played dress-up as a child, and was happy to find Waters' community of artists after being badly bullied at school. Over the following years, Divine headed to San Francisco to develop his on-stage character with the anarchic theatre group The Cockettes, took the New York stage by storm and launched an international recording career. And his continuing work with Waters brought him global stardom.

Divine appeared in nine of Waters' films, including now iconic roles in Pink Flamingos, Female Trouble, Polyester and of course Hairspray. His costars chat openly about working with him, including Hunter, who didn't hesitate before performing a love scene with Divine in Lust in the Dust. But filmmaker Schwarz's most clever touch is to let Divine himself narrate much of his story through interviews taped through the years, illustrated with a wealth of film clips, still photos and home movies.

Schwarz keeps the film's pace appropriately lively and colourful,while chronologically tracing Divine's career. There is some terrific never-before-seen footage, as well as a striking sense of how Divine's persona developed over the decades until his sudden death in 1988, just as he was beginning to get non-drag roles. Indeed, he was a serious performer for whom cross-dressing was a job, not his identity. And it took a long time for producers to realise that there was actually a fiercely talented character actor beneath those flamboyant wigs.

The film also honestly profiles the private man who was excessive in everything from food to drugs to love. Being badly overweight took a toll on him, especially as he performed high-energy shows in heavy costumes. But he never did what was expected of him. "It's my job to get out there and shock people," he said of his rebellious approach to everything he did. Schwarz captures this aspect of Divine's life fabulously, but he also finds the fragile man inside. Which makes the film startlingly resonant.
15 themes, language
---
18.Feb.13


< < D O C S > >
See also: SHADOWS FILM FESTIVAL

© 2014 by Rich Cline, Shadows on the Wall


HOME | REVIEWS | NEWS | FESTIVAL | AWARDS | Q&A | ABOUT | TALKBACK