dir George Clooney
scr Duncan Brantley, Rick Reilly
with George Clooney, RenŽe Zellweger, John Krasinski, Jonathan Pryce, Stephen Root, Wayne Duvall, Keith Loneker, Malcolm Goodwin, Matt Bushell, Tommy Hinkley, Jack Thompson, Max Casella
release US 4.Apr.08, UK 11.Apr.08
08/US Universal 1h54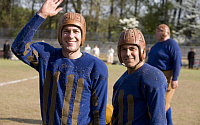 Get 'em Bulldogs! Krasinski and Clooney



---
See also:
INTERVIEW WITH
GEORGE CLOONEY &
RENEE ZELLWEGER
---
R E V I E W B Y R I C H C L I N E

What starts as a thoroughly enjoyable screwball romp, vividly capturing another sense of time and place, gets bogged down in some over-ambitious plotting and serious themes as it goes along.

Dodge Connelly (Clooney) is the ageing star of the Duluth Bulldogs, a pro football team. But this is 1925, when no one watches pro football, and in order to rescue his team from bankruptcy he decides to lure famous war-hero college player Carter Rutherford (Krasinski) to his team. Meanwhile, a nosey journalist (Zellweger) is trying to debunk Carter's war record, even as Carter's agent (Pryce) will do anything to protect (and profit from) it. And as professional football begins to become legit, Dodge may have to begin playing by the rules.

As a director, Clooney adopts a raucous, Coen-esque 1940s style of filmmaking, with a bounding Randy Newman score and sassy-smart dialog. These things work together perfectly and keep us smiling through the story's early sections, even when the acting tends to drift into eyebrow-arching hamminess. But as the story starts to gain pace, the film itself stumbles. Too many plot threads weaken the central rom-com, as do all of the worthy themes woven in along the way and one football game that's on screen far too long.

It also doesn't help that the cast members, as charming as they may be, play this in the broadest possible way. Opposite Clooney's shameless self-deprecating mugging, Zellweger scrunches her mouth and squints relentlessly while Krasinski bats his puppy-dog eyes. At least these actors, including several gifted bit-players, are good enough to keep us engaged. But the whole concept that less is much more, especially in comedy, seems lost on them. And combined with the film's hyperactive tone, the film is trying way too hard to attain screwball hilarity.

That said, the story is intriguing, and the film is impeccably well-made, down to the smallest details and silliest throwaway lines of dialog. Even if the silly keystone cops chase sequence doesn't work at all, and the climactic mud-bowl finale drags badly, the inclusion of some ethical-moral issues at least adds the illusion of depth. And besides, in the end, it's still pretty good fun.
| | | |
| --- | --- | --- |
| | themes, innuendo, brief language | 7.Apr.08 |