R E V I E W B Y R I C H C L I N E
dir Chris Miller
scr Jeffrey Price, Peter S Seaman, Chris Miller, Aron Warner
voices Mike Myers, Eddie Murphy, Cameron Diaz, Antonio Banderas, Rupert Everett, Justin Timberlake, Julie Andrews, Eric Idle, John Cleese, Ian McShane, Amy Poehler, Maya Rudolph, Amy Sedaris, Cheri Oteri, Seth Rogen, Larry King, Regis Philbin
release US 18.May.07,
UK 29.Jun.07
07/US DreamWorks 1h33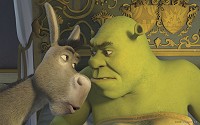 Morning breath: Donkey and Shrek






SHREK (2001)
SHREK 2 (2004)
SHREK FOREVER AFTER (2010)
PUSS IN BOOTS (2011)

There's definitely a feeling that the Shrek saga is drawing to a close, as the filmmakers abandon the inventive, freewheeling humour of the first two episodes for a more talky, rushed tale about growing up and settling down.

Shrek and Fiona (voiced by Myers and Diaz) are anxious to leave Far Far Away and get back to their smelly swamp. But when the king (Cleese) dies, they're next in line for the throne. The only option is to find long-lost heir Arthur (Timberlake) to take their place. So Shrek sets off to get him, along with Donkey (Murphy) and Puss In Boots (Banderas). Meanwhile, the vain Prince Charming (Everett) invades the castle and imprisons Fiona and her mother (Andrews) to claim the crown for himself.

The writers take some risks that make the film intriguing, mainly as they force the characters to grow up (Shrek must come to grips not only with being king, but also with impending fatherhood). They also limit the physicality, focussing more on dialog and plot, which gives the film a bit of weight. But without continuous silly antics and witty parodies, it's also a lot less fun. And there's nothing new here--no sharp new characters, sight gags, plot twists--so it also feels rather stale.

That said, the material is full of possibilities. Arthur's high school is a ripe pastiche that doesn't go far enough. Merlin (Idle) is a bumbling magician with nothing to do but provide one convenient plot point. Fiona's gal pals are spoiled fairy tale heroines who aren't quite as ditsy as they seem, but never quite spring to life. Charming's gang of ruffians is made up of mercenary fairy tale villains who seem more like a bad theatre troupe than thugs.

And so on. While the film is entertaining, it just never makes the most of its potential. After the rather slow-moving first half, things perk up notably for a hilariously chaotic finale. And the animation is astonishing, another huge leap forward in catching detail and texture. So it's a shame the same can't be said about the storytelling.
| | | |
| --- | --- | --- |
| | some vulgarity and violence | 20.May.07 |