R E V I E W B Y R I C H C L I N E
dir Robert Ben Garant
scr Robert Ben Garant, Thomas Lennon, Kerri Kenney-Silver
with Thomas Lennon, Kerri Kenney-Silver, Robert Ben Garant, Niecy Nash, Cedric Yarbrough, Wendi McLendon-Covey, Carlos Alazraqui, Mary Birdsong, Patton Oswalt, Paul Rudd, David Koechner, Nick Swardson, Paul Reubens
release US 23.Feb.07,
UK 27.Apr.07
07/US Paramount-Fox 1h24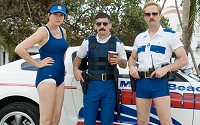 Bad cops: Kenney-Silver, Garant and Lennon



To call this movie utterly ridiculous both understates the fact and misses the point. It's a completely unnecessary, ramshackle mess of a film. But it does keep you laughing.

Eight losers who work in the Reno Police Department are thrilled when they're invited to a national conference in Florida. But when they arrive, the super-cop snobs refuse to let them in. So they camp out at a nearby fleabag hotel with hookers and gangsters instead. Lucky for them. Because a bio-terrorist attack leaves the nation's cops trapped in the convention centre, and now the Reno force is protecting Miami Beach while trying to catch the baddies. A hurricane would do less damage.

The Reno 911! TV series was created as a spoof of Cops, and the ensemble brings it to the big screen in the same mock-doc style. Freed from the constraints of television, they indulge in rather a lot more sex-and-nudity-themed humour. Plus of course the full range of scatological humour that we expect. The nice surprise is that it's quite a bit wittier than most of these low-brow comedies. Although as it progresses you can't help but wish there was a little biting satire to go along with the silly pastiche.

The goofy characters collide like the disparate elements of film's hilariously chaotic title. Standouts include the trio played by the writers: Lennon's shorts-sporting queen is the group's leader, mercilessly oblivious to how preposterous he looks. Kenney-Silver is loveably clueless, speaking long before her brain engages. And Garant hilariously bumbles and crashes through every scene. The others provide plenty of colour around the edges, sharing space with cameos from the likes of Danny DeVito and The Rock.

While there are moments of inspired madness along the way, the filmmakers struggle to sustain the comedic energy. The convolutions of the plot suck the life out of the whole thing, while some of the random scenes simply don't add anything at all. But the cast still manages to keep their characters engaging and oddly likeable, in a bad puppy sort of way. In other words, an adequately mindless Saturday night movie.
| | | |
| --- | --- | --- |
| | themes, language, sexuality, drugs, violence | 7.Mar.07 |