R E V I E W B Y R I C H C L I N E
dir Kyung Ho Lee, John Fox, Howard E Baker
scr Scott Clevenger
voices Freddie Prinze Jr, Evan Rachel Wood, Rob Schneider, Andy Dick, Donal Logue, Fran Drescher, John Rhys-Davies, R Lee Ermey, Richard Epcar, Mel Rodriguez, Trent Ford, Megahn Perry
release UK 9.Feb.07
06/Korea-US Wonderworld 1h18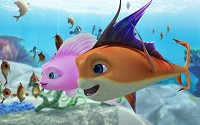 Getting along swimmingly: Cordelia and Pi


---

Directly lifting key elements from both Finding Nemo and Shark Tale, this derivative Korean-produced animated adventure is watchable but just never good enough to hold the audience's attention.

Pi (Prinze) is an orphaned fish who travels to a mythical coral reef to find his Aunt Pearl (Drescher). He teams up with his goofy cousin Dylan (Dick) to explore his new home, and immediately falls in love with the glamorous Cordelia (Wood). But this enrages the bully shark Troy (Logue). And now Pi has to somehow defeat Troy for the affections of his beloved. Enter the mysterious turtle Narissa (Schneider), who trains him to fight against such a formidable opponent. But he'll need more help than this.

No, there's never the slightest question where this is heading--no suspense or drama at all. There is some clever comedy in the script, but the characters never stop talking, which makes the whole thing both exhausting and rather tiresome. There's nothing like non-stop chatter and plot exposition to kill the momentum in what should be a comedic action romp; after the colourful introduction, kids are likely to get bored very quickly.

And the animation isn't particularly eye-catching. The character design closely echoes Finding Nemo, but in a TV-quality way that will work better on video than the big screen. At least the vocal work is strong, with Dick and Schneider voicing a handful of colourful characters each, adding snap and personality in every corner of the screen. And some of the dialog bristles with witty humour without falling back on corny pop-culture references. On the other hand, the requisite bodily function jokes are present and accounted for. And never funny.

As far as animated movies go, this is actually better than some of the bigger budget things clogging up multiplex screens over the past year. But the imitative nature of the whole film, as well as the only-OK animation is far more suited to a straight-to-video release, where it still might be seen as a nice little surprise.
| | | |
| --- | --- | --- |
| | themes, vulgarity, violence | 21.Jan.07 |