R E V I E W B Y R I C H C L I N E
dir Richard LaGravenese
scr Richard LaGravenese, Steven Rogers
with Hilary Swank, Gerard Butler, Lisa Kudrow, Gina Gershon, Kathy Bates, Harry Connick Jr, Jeffrey Dean Morgan, James Marsters, Dean Winters, Tony Devon, Marcus Collins, Christopher Whalen
release US 21.Dec.07, UK 4.Jan.08
07/US Warner 2h05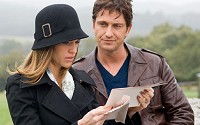 Letter from beyond: Swank and Butler



Nicely played but almost pathologically cute, this sweet comedy-drama has virtually nothing in it that will appeal to most male moviegoers. But romantics, men or women, will love it.

Holly and Gerry (Swank and Butler) have had a tempestuous but deeply loving nine-year marriage, and when Gerry dies after a short illness, Holly is barely able to cope. Her buddies Denise and Sharon (Kudrow and Gershon), mother (Bates) and a colleague (Connick) do what they can to help, and then she starts getting messages from Gerry, which he carefully planned before his death to help her remember their past and look to the future. This includes sending Holly and her pals on holiday to his homeland, Ireland, where they swoon over a sexy musician (Morgan).

Filmmaker LaGravenese specifically aims this story at lovelorn 30-somethings who can identify with the three female characters: fragile-lonely Holly, desperately single Denise and sardonic-pregnant Sharon. They're nicely played by Swank, Kudrow and Gershon, and offer fresh spins on these fairly stereotypical movie characters. All three are gifted, engaging actors who bring their skills to the roles. But viewers outside the demographic will struggle to find something in them to identify with.

Even the male characters are a specific type. All three dark, soulful, untraditional men are nicely played by Butler, Connick and Morgan. But these limited profiles make the film feel simplistic, as does the heavily sentimentalised approach. Not to mention the problem that, frankly, if a dying man somehow found the strength to do all of this, it would probably seem more than a little creepy to the survivors.

Fans of shamelessly sappy movies won't mind any of this. And for the rest of us, there's some sharp dialog along the way, as well as cast members who fill their roles with buoyant personality and small quirks that make each person likeable, despite the fact that these characters are more than a little mopey. These are all aching romantics who think they'll never find love again. This is something we can perhaps identify with, even though we know that real life never turns out like it does in the movies.
| | | |
| --- | --- | --- |
| | themes, language, innuendo | 16.Oct.07 |