R E V I E W B Y R I C H C L I N E
dir-scr Zach Helm
with Dustin Hoffman, Natalie Portman, Jason Bateman, Zach Mills, Ted Ludzik, Mike Realba, Kiele Sanchez, Rebecca Northan, Quancetia Hamilton, Matt Baram, David Rendall, Michael Costa Parke
release US 16.Nov.07, UK 14.Dec.07
07/US Walden 1h34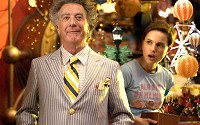 Funny face: Hoffman and Portman




Writer-turned-director Helm (Stranger Than Fiction) floods this film with so much glittery magic that it'll appeal to the child in just about everyone. It's a little sentimental, and the finale feels rushed, but along the way it's great fun.

At age 243, Mr Magorium (Hoffman) knows his days are winding to a close, and he's planning to pass on his lively, extremely colourful New York toy shop to his assistant Molly (Portman). But Molly's unsure what she should do with her life, and fairly confident that Mr Magorium is the source of the shop's true magic. Meanwhile, 9-year-old Eric (Mills), a regular customer who loves the shop's enchanted atmosphere, needs to find a friend. And sceptical accountant Henry (Bateman) is trying to sort through 150 years of untouched paperwork.

The film has a terrific attitude from the start, merely accepting the shop's supernatural behaviour without question. The comedy comes from the fact that Henry simply can't see the magic, while Magorium can't see anything else. The script is smart and often very funny, loaded with tiny touches that keep us chuckling or quietly tug the heartstrings up until the sweetness begins to take over. Along the way, there's a series of inspired sequences that draw out a couple of strong, sympathetic characters.

The terrific Portman gives the film its heart with her endearing mannerisms, smiley exterior and consuming self-doubt. Mills is solid as the nerdy, and mercifully never cute, kid. And Bateman is surprisingly charming as the straight man opposite all the chaos. Meanwhile Hoffman gives one of his extremely mannered performances, which is distracting but works only because the character is genuinely fascinating. But of course the shop itself is the real star, especially when it throws a temper tantrum and goes into mourning at the thought of Magorium's imminent departure.

In the end, the message is a bit heavy-handed, about believing in yourself and in the magic of the world around you. And the rather wonderful closing sequence feels strangely abrupt. But this is the kind of film that grown-ups can watch on a much richer level than the entranced kids sitting around them. But only if the grown-ups are in touch with their inner child.
| | | |
| --- | --- | --- |
| | some themes, | 18.Nov.07 |