R E V I E W B Y R I C H C L I N E
dir Steve Bendelack
scr Hamish McColl, Robin Driscoll
with Rowan Atkinson, Emma de Caunes, Max Baldry, Willem Dafoe, Karel Roden, Jean Rochefort, Steve Pemberton, Clint Dyer, Steve Campos, Stéphane Debac, Antoine de Caunes
release UK 30.Mar.07,
US 24.Aug.07
07/UK Universal 1h29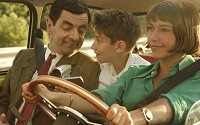 A Mini adventure: Atkinson, Baldry and de Caunes




Ten years after the first film, Bean returns to the big screen for a more self-contained adventure clearly inspired by Chaplin, Keaton and Tati. And it works surprisingly well: charming, silly and extremely engaging.

At a village fête, Mr Bean (Atkinson) wins the grand prize in the raffle: a trip to the Cannes Film Festival. The train journey to Paris goes fairly smoothly; getting across the city is a bit more of a challenge. And then things start really going wrong, as he inadvertently separates a Russian father (Roden) from his son (Baldry), then tries to help the lively, inventive boy get to the French Riviera. En route, they link up with a sparky young actress (de Caunnes) working on a movie with a pretentious director (Dafoe).

The plot is a riot of coincidences and contrivances, and the comedy is more smile-inducing that gut-busting. Although there are some madly inspired sequences, and a sublimely wacky finale. There's also a certain genius in the premise: put Bean in a place where he doesn't speak the language, so doesn't talk. In other words, it's almost like a silent movie, as most of the dialog completely misses its destination, while Bean stumbles right through the middle.

And let's face it, he's a lot funnier when he doesn't speak (although his limited French vocabulary does provide the film's best running gag). In this character, Atkinson's body seems almost prehensile--arms, legs, even eyebrows are deployed to perfect effect. Yes, it's ludicrously broad and often very stupid, but Atkinson keeps the character endearingly bumbling rather than obnoxious. And it's great fun to see Dafoe so gleefully send up a deserving Hollywood stereotype.

Meanwhile, the film is inventively directed by Bendelack (The League of Gentlemen's Apocalypse) with kinetic action and a fine sense of cinematic pacing. What could have been a series of big and bigger set pieces instead flows smoothly from each corny gag to the next goofy slapstick routine. And the script is packed full of witty observations on Brits abroad, French culture and especially the movie business. In avoiding the temptation to make another blockbuster, the filmmakers have actually rediscovered the character in a smart, funny way.
| | | |
| --- | --- | --- |
| | some themes | 18.Mar.07 |


steve, gb:

"a brilliant rediscovery of the character and a very funny film. atkinson brilliant, baldry enchanting, best film i've seen for months!" (26.Mar.07)

monica, brasil:

"I love clownish naive slapstick physical comedy and Atkinson aces the silent movie test. My son and I went gaga over Bean riding the moped. Void of fart jokes or gross low brow gags, I laughed my head off." (7.Apr.07)
Angad Karunan:

"A great way to spend an hour and a half. Rowan Atkinson comes up with yet another rib tickling performance." (28.May.07)
Faye, Manila, Philippines:

"I don't watch the TV show and I didn't see the first movie, but I decided to see this movie because I loved the trailer. The movie itself is very funny and sweet, with many visually beautiful scenes. This is one of the best movies I've ever seen; I've recommended it to all my family and friends." (11.Jun.07)