R E V I E W B Y R I C H C L I N E
dir Curtis Hanson
scr Eric Roth, Curtis Hanson
with Eric Bana, Drew Barrymore, Robert Duvall, Debra Messing, Robert Downey Jr, Jean Smart, Charles Martin Smith, Bradford English, Saverio Guerra, Phyllis Somerville, Kelvin Han Yee, John Hennigan
release US 4.May.07, UK 22.Jun.07
07/US Warner 2h04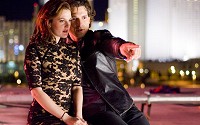 Love will find a way: Barrymore and Bana



Despite strong acting and intelligent dialog, this film is both overlong and overwritten. And it can't decide whether it's a cautionary tale about gambling, a weepy father-son drama or a breezy rom-com.

Besides being saddled with a freakishly literary name, Huckleberry Cheever (Bana) is a poker addict who has never forgiven his father (Duvall) for past sins. Living from game to game in lonely isolation, he finally begins to open up to the charming lounge singer Billie (Barrymore). As the 2003 Poker World Series approaches, Huck must accept backing from a silent partner (Smith), so he can enter the competition and prove himself to his father. Or himself. Or Billie. Or someone.

Yes, there's a fundamental hole in the plot. We're never remotely sure what's bugging Huck so much and why he treats everyone so badly while refusing to forgive his father for the same behaviour. Ah, maybe that's it. Yet Huck is clearly meant to be a sympathetic character, while Bana is far too good an actor to merely rely on movie-star charm. He actually makes Huck a believable lout, so we don't care if he gets the girl, reconciles with Dad or wins the cash.

With all the weight on Bana's shoulders, Duvall and Barrymore can enjoy themselves. Duvall is in crusty old man mode, while Barrymore tries to play a sensible adult for a change, which is at least intriguing, especially as Billie proves to be as good at reading poker faces as Huck is. Messing is fine in an inconsequential role, while Downey has a hilariously frenetic cameo.

The film would be engaging as a character study, following decline, fall and possible redemption of a troubled soul. But Hanson indulges in so much poker playing that we lose the will to watch. Card playing is never very interesting on screen (it even brought Casino Royale to a shrieking halt), so a two-hour film packed with more poker games than you can count will try the patience of anyone but the most loyal hole-cam fan. As a result, even though it's watchable, the whole film feels superficial and sentimental.
| | | |
| --- | --- | --- |
| | themes, language | 11.Jun.07 |