R E V I E W B Y R I C H C L I N E
dir Robert Benton
b>scr Allison Burnett
with Morgan Freeman, Greg Kinnear, Radha Mitchell, Jane Alexander, Billy Burke, Selma Blair, Alexa Davalos, Toby Hemingway , Fred Ward, Missi Pyle, Margo Martindale, Erika Marozsán
release US 28.Sep.07, UK 5.Oct.07
07/US MGM 1h42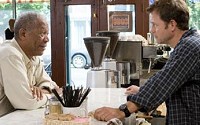 Coffee talk: Freeman and Kinnear



A fluffy concoction about relationships, this film will satisfy anyone in need of a web of sudsy romance and perhaps a little tragedy to go with it. The performances are great, but in the end it's far too simplistic.

Harry Stevenson (Freeman) watches those around him in bemused detachment. Well, mostly detached, as he and his wife (Alexander) are coping with a recent grief. His former student Bradley (Kinnear), who runs the local coffee bar, is oblivious in love, as his wife (Blair) leaves him for another woman and he responds by falling madly for the sexy Diana (Mitchell). But she's in love with a married man (Burke). Meanwhile, Bradley's barista Oscar (Hemingway) is in a star-crossed romance with Chloe (Davalos), which is complicated by his violent father (Ward) and hints of impending tragedy.

For a film that's trying to deal with all of the permutations of love, there's very little of it actually depicted on screen. We have plenty of attraction, affection, eroticism and obsession, but everyone in this film is essentially trapped within their own selfish neediness. So when one falls in love at first sight, or when another realises that they're actually in love with the person right next to them, or whatever, it feels more than a little superficial.

This isn't the actors' fault. All of them are very good, especially in the film's smaller scenes in which they cope with their internal demons. Kinnear and Mitchell have the most intriguing characters, and mine them for all kinds of joy and pain, bad decisions and murky motives. Freeman doesn't really have much to do but play himself and intone luxuriantly in the voiceover. Hemingway and Davalos hint at strong talent that will hopefully emerge in future roles.

The main problem here is Burnett's simplistic screenplay, which works so hard to stir up the sentimentality that there's no space for any authentic emotional resonance. The anecdotal scenes feel more like a series of slushy greeting cards than real life. Still, the central question is an intriguing one: Is love a trick of nature or the meaning of life?
| | | |
| --- | --- | --- |
| | themes, language, sexuality, violence | 24.Sep.07 |