R E V I E W B Y R I C H C L I N E
dir Lajos Koltai
scr Susan Minot, Michael Cunningham
with Claire Danes, Toni Collette, Vanessa Redgrave, Mamie Gummer, Natasha Richardson, Patrick Wilson, Hugh Dancy, Glenn Close, Meryl Streep, Ebon Moss-Bachrach, Eileen Atkins, Barry Bostwick
release US 29.Jun.07,
UK 21.Sep.07
07/US Focus 1h57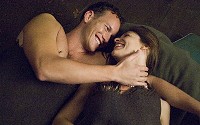 Fantasy romance: Wilson and Danes







An astounding cast and high production values make this film worth seeing, even as turns into a girly melodrama. Despite the excellent performances, it feels murky and contrived.

On her deathbed, Ann (Redgrave) is mumbling things about her past that mystify her daughters, the feisty Nina (Collette) and the repressed Constance (Richardson). Eventually the story unfurls in flashbacks, as the young Ann (Danes) attends the wedding of her best friend Lila (Gummer) and has momentous encounters with two men: Lila's lively brother Buddy (Dancy) and his hunky childhood friend Harris (Wilson). But it's not until the older Lila (Streep) arrives that Nina and Constance find out what actually happened.

From the film's opening moments, when director Koltai presents us a dreamscape vision of the New England coastline accompanied by composer Jan AP Kaczmarek's wailing violin score, we know we're in weepy movieland. The presence of cowriter Cunningham (The Hours) is a red herring, as the film resembles a wrenching romance novel more than an intelligent look at women's inner lives. But perhaps it's Cunningham who lured such a powerhouse cast, and for that we should be hugely grateful.

In the central role, Danes is so good that we overlook the fact that the lynchpin love story is deeply unconvincing. By contrast, as the older Ann, Redgrave doesn't have very much to do besides chew the scenery. But Dancy is thoroughly engaging; the excellent Gummer is the eerie image of her mother Streep (who basically has an extended cameo); and Close is entertaining as Lila's fiendishly repressed mother, a role she's played before (The Chumscrubber, The Stepford Wives). Collette is also good in her own mini-drama, as she grapples with her commitment to her boyfriend (Moss-Bachrach).

The parallel plots are earnest and portentous, layering in Important Life Lessons and impending tragedy. There are some wonderful flickers of wit, but not nearly enough, as Koltai seems more interested in reaching for emotional highs and lows than sustaining the storytelling pace or filling the plot's many gaps. The main problem is that, as it lacks a singular perspective, there's just no passion. And it's the casting director who deserves the credit for the film's beautifully strong moments.
| | | |
| --- | --- | --- |
| | themes, language, brief violence | 20.Jul.07 |