R E V I E W B Y R I C H C L I N E
dir Tom Shadyac
scr Steve Oedekerk
with Steve Carell, Morgan Freeman, Lauren Graham, John Goodman, Wanda Sykes, John Michael Higgins, Johnny Simmons, Graham Phillips, Jimmy Bennett, Jonah Hill, Molly Shannon, Jon Stewart
release US 22.Jun.07, UK 3.Aug.07
07/US Universal 1h30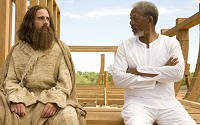 A bigger boat: Carell and Freeman


---
See also:
INTERVIEW WITH
STEVE CARELL

This sequel to the 2003 Jim Carrey comedy Bruce Almighty, spins off Carell's newscaster character for his own divine adventure. It's entertaining enough to be a big hit, but the script is badly underwritten.

Buffalo news anchor Evan Baxter (Carell) is elected to Congress on a "change the world" campaign, but when he arrives in Washington he's quickly engulfed in a boondoggle orchestrated by a senior congressman (Goodman). Then God (Freeman) appears and tells him to mend his anti-environmental ways and build an ark, because a flood is coming. Evan soon finds himself stricken with long hair, a scruffy beard and rough-hewn robes. Plus hundreds of animals, in pairs, lining up outside. His wife (Graham) and three sons (Simmons, Phillips and Bennett) try to be understanding, but Evan is clearly nuts.

There's a certain inventiveness to the premise, setting the Noah's ark story in the corrupt seat of government. So it's a shame that the script isn't sharper than it is. Sure, there's a continual stream of hilarity, but it's not terribly clever. The animals only provide the occasional cheap laugh. Noah's family is almost non-existent. The whole hair and robes thing is gratuitously simplistic. And the film's main running gag is a little dance that isn't actually funny, although that fact won't stop undemanding viewers from laughing at it.

Basically, nothing is much of a stretch. The sunny production design, superbly rendered effects, goofy performances and silly dialog are fine. As the plot takes extremely lazy twists and turns (like the ark itself), Carell is as charming as ever in a role that doesn't require much from him besides dressing up as a "weirdo with a beardo". As Evan's assistant, Sykes provides most of the laughs with her snarky one-liners.

In the end, the syrupy message rises faster than the floodwaters, leaving the whole film shallow and preachy. But it's also amusingly entertaining, in an escapist sort of way, the prefect movie for parents to take their kids to--funny and enjoyable, with Important Life Lessons about doing random acts of kindness. Although with its meek vulgarity and simplistic morality, the kids will see right through it.
| | | |
| --- | --- | --- |
| | themes, vulgarity | 14.Jun.07 |